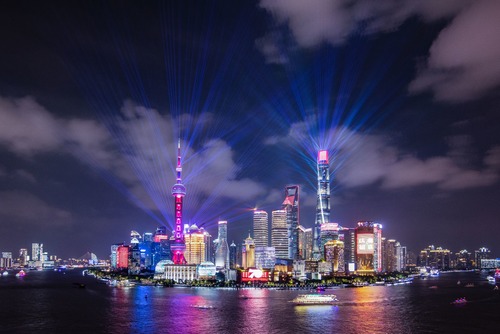 Aerial photo taken on Sept. 18, 2019 shows the night view of the Lujiazui area in Shanghai, east China. (Xinhua/Ren Long)
SHANGHAI, March 18 (Xinhua)-- East China's Shanghai remained the third place in the 29th edition of Global Financial Centers Index (GFCI 29) published by the British think tank Z/Yen Group and China Development Institute in Shenzhen on Wednesday.
The GFCI Report is released in March and September every year since 2007. In the 29th edition of GFCI, 126 financial centers were assessed. Shanghai came the third, only after New York and London, with an overall rating of 742.
It is noted that despite remaining the same ranking compared to previous time, Shanghai's rating gap with London has been narrowed to only one point.
According to the GFCI report, Shanghai ranked the second, only after New York, in term of the development of financial technology (fintech).
Shanghai has made great progress in building itself into an international financial center throughout the year of 2020. In GFCI 28 in last September, Shanghai surpassed Tokyo to the third place for the first time. Ranking the third twice in a row shows that Shanghai has been recognized by the international community as a competitive global financial center, analysts said.
As an international financial center, Shanghai is becoming more and more competitive, said Zeng Gang, deputy director of the National Institution for Finance and Development.
According to Zeng, thanks to China's wider opening-up and stable economy, Renminbi (RMB) asset has become more and more attractive in 2020, making Shanghai's financial market even bigger.
Besides, Shanghai's multi-layered financial market has been improved as financial reforms have been further deepened. The city has seen more cross-border transactions through a better connection between its finance market and that of foreign countries, said Zeng.
(Edited by Li Shimeng with Xinhua Silk Road, lishimeng@xinhua.org)