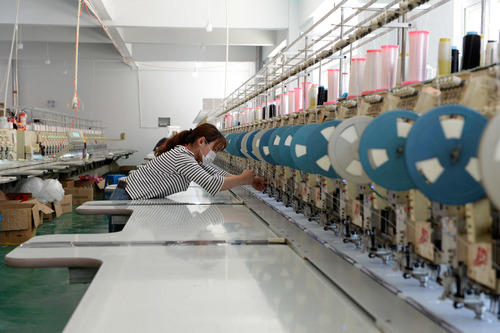 A worker operates a machine to embroider patterns for wedding dresses at a wedding dress producing company in Dingji Town of Lu'an City, east China's Anhui Province, April 30, 2020. (Xinhua/Huang Bohan)
BEIJING, March 18 (Xinhua) -- East China's Anhui Province saw its foreign trade with Belt and Road countries rise 11.8 percent year on year to 131.27 billion yuan last year, local authorities said recently.
Among them, exports surged to 98.38 billion yuan, registering a 10.2 percent increase over the same period of last year, while imports totaled 32.89 billion yuan, a rise of 17 percent.
In 2020, exports and imports of products under the general trade category, which are differentiated from processing trade, grew 12 percent to 100.91 billion yuan.
Private enterprises played a vital role in driving the province's foreign trade with the Belt and Road countries, contributing 74.79 billion yuan last year, up 12.8 percent year on year.
Vietnam, India, Singapore and Malaysia were Anhui's major trading partners, with the total trade volume reaching 50.72 billion yuan last year.
(Edited by Yang Yifan with Xinhua Silk Road, yangyifan@xinhua.org)