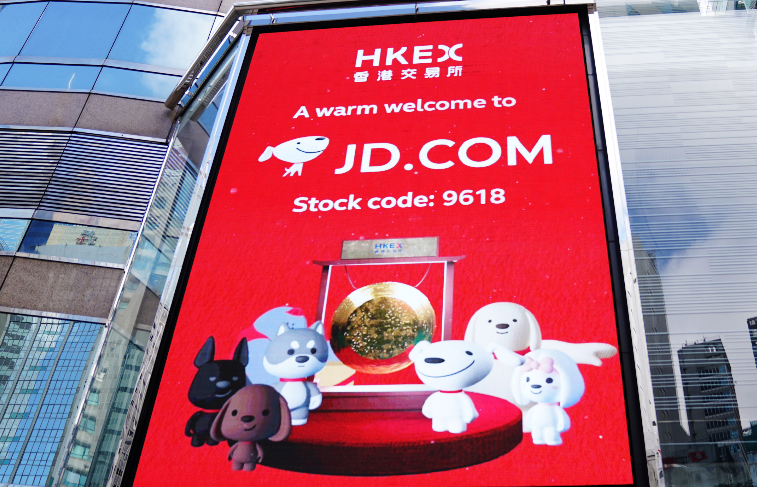 A screen showing the listing of JD.com in Hong Kong is seen outside the trading hall of Hong Kong Exchanges and Clearing Limited (HKEX) in south China's Hong Kong, June 18, 2020. (Xinhua/Wang Shen)
BEIJING, March 12 (Xinhua) -- E-commerce giant JD.com reported revenues of 745.8 billion yuan (about 114.3 billion U.S. dollars) for the full year of 2020, a year-on-year increase of 29.3 percent, according to the company's filing to the stock exchanges on Thursday.
Its service revenues in 2020 netted 93.9 billion yuan, an increase of 42.0 percent from those in 2019. Operating Income stood at 12.3 billion yuan, compared with the 9.0 billion yuan in 2019.
In the fourth quarter of 2020, its operating income was 594.9 million yuan, compared with the 529.5 million yuan in the same period in 2019. Net revenues came to 224.3 billion yuan, an increase of 31.4 percent year on year. Net service revenues stood at 32.1 billion yuan, an increase of 53.2 percent year on year.
"JD.com saw accelerated revenue and user growths during the fourth quarter driven by our long-term operating philosophy and customer-centered value proposition despite the ongoing market challenges," said Richard Liu, chairman and CEO of JD.com.
"With a strong momentum going into 2021 and with our recently optimized organizational structure, JD.com will continue to invest in innovative, high potential businesses to drive long-term sustainable growth," Liu added.
JD.com went public in Nasdaq in 2014 and finished its secondary listing in Hong Kong in June 2020. (Edited by Hu Pingchao with Xinhua Silk Road, hupingchao@xinhua.org)