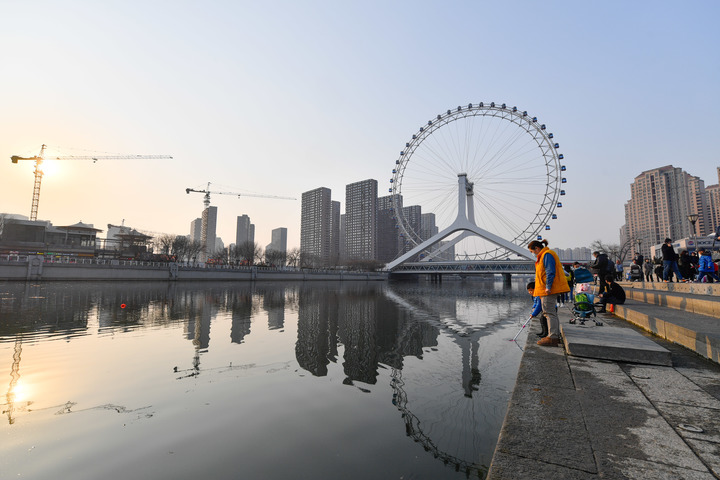 People spend time beside the Haihe River in Tianjin, north China, Feb. 27, 2021. (Photo by Sun Fanyue/Xinhua)
BEIJING, March 8 (Xinhua) – North China's Tianjin Municipality pledged to optimize and upgrade the industrial chains to improve the its industrial competitive advantages, local authorities revealed recently.
Tianjin would inject impetus to ten major areas concerning with information technology application innovation, biomedicine, traction battery, high-end equipment, automobiles and new energy vehicles (NEV).
In the automotive industry, Tianjin will promote the development of NEV manufacturers including FAW Toyota Motor Co., Ltd, FAW-Volkswagen, and the NEV maker under China's real conglomerate Evergrande Group.
Tianjin also vowed to build a world-leading production base for new chemical materials in the Nangang Industrial Zone and speed up the construction of Sinopec Group's ethylene and crude oil storage depot and other major projects in Nangang.
Priority will also be given to the aviation and aerospace industry. Tianjin will strive to launch the final assembly line project of Airbus A320 airliners this year, and is expected to complete the assembly of 8 to 10 Long March carrier rockets.
(Edited by Jiang Feifan with Xinhua Silk Road, 346129473@qq.com)