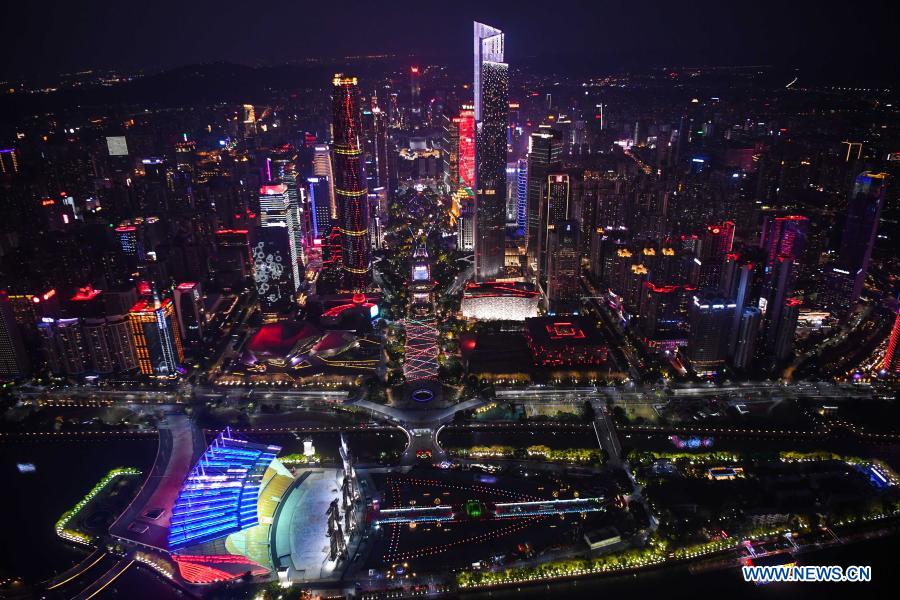 Photo taken on Feb. 15, 2021 shows the night view of Guangzhou, capital of south China's Guangdong Province. (Xinhua/Deng Hua)
BEIJING, March 1 (Xinhua) -- South China's Guangdong Province is expected to cut about 50.8 billion yuan of burden for enterprises this year, reported www.cs.com.cn Monday.
The province on February 26 released a work plan on reducing the burden and promoting the high-quality development of enterprises.The plan was made based on a survey of issues facing enterprises, such as high rental, financing, logistics and electricity costs, low subsidies, and difficulties in obtaining loans.
The plan put forward ten specific policies covering social security, entrepreneurship and employment, tax and fee reduction, electricity and energy consumption, and assistance to special groups, etc.
According to the plan, the favorable policies will benefit more enterprises, including all kinds of enterprises and start-ups, individual businesses, and other production and operation entities in the province.
For enterprises with no more than 30 insured employees, the layoff rate should be eased to no more than 20 percent of the total number of employees, while for those with more than 30 insured employees, the layoff rate should be relaxed to the previous year's national urban survey unemployment rate control target, according to the plan.
Besides, starting from May 1 this year, there will be another phased cut of 50-percent in the work-related injury insurancerate on the basis of implementing the provincial-level unified industry basic rate standards, says the plan.
It also says that for borrowers who started a business that creates more than five jobs, the maximum personal loan limit will be raised to 500,000 yuan.
In order to help enterprises deal with the impacts brought by the COVID-19 pandemic, Guangdong took various measures and reduce more than 300 billion yuan of burden for enterprises in 2020.
(Edited by Gu Shanshan with Xinhua Silk Road, gushanshan.1987@163.com)