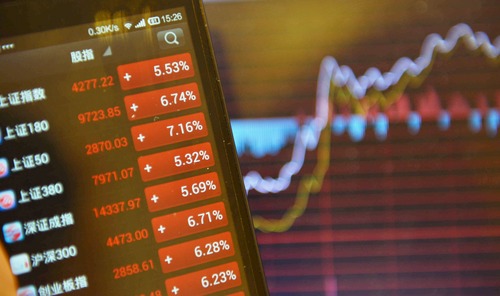 BEIJING, Feb. 26 (Xinhua) -- Norway's Government Pension Fund Global (GPFG), the biggest sovereign wealth fund in the world also named oil fund, added holdings of China's A-shares last year, reported Xinhua Finance, a Xinhua-run financial information platform Friday.
The report quoted industry insiders as saying, after GPFG released Thursday its annual financial results revealing that its average rate of return (ROR) from its China stock holdings stood higher than the increase in market capitalization (market cap) of its China stock positions last year.
GPFG raked in an average ROR of 29.7 percent from its holdings of China stocks in 2020 while the market cap of its holdings of China stocks rose by a higher 35.75 percent, hinting the Norway sovereign wealth fund added positions of China stocks last year.
By the end of 2020, GPFG's China stock holdings came from stocks of 742 firms in China and valued 320.5 billion yuan in market cap, as compared to the 236.1 billion yuan at the end of 2019.
It invested heavily in Alibaba (01688.HK), Tencent (00700.HK) and Meituan (03690.HK) in 2020, with its holdings of the three's stocks valuing 42.5 billion yuan, 38 billion yuan and 12.7 billion yuan respectively.
Aside from Meituan, Alibaba and Tencent ranked among the top 20 firms which the GPFG invested heavily last year. For A-share listed firms, the Ping An Insurance (Group) Company of China, Ltd. (601318.SH) was favored by GPFG and the market cap of its holdings of the company reached 8.2 billion yuan by the end of 2020. GPFG's holdings of Kweichow Moutai Co., Ltd. (600519.SH) valued around 4.2 billion yuan by market cap.
Compared with 2019, the Norway sovereign wealth fund added stock holdings of such China firms as NIO, Inc. (China) (NIO. NYSE), Xiaomi Corporation (01810.HK), and JD.com, Inc. (JD. Nasdaq; 09618.HK) last year, with the proportion of its holdings in these firms' total capital stocks up from 0.03 percent, 0.62 percent and 0.38 percent to 0.87 percent, 0.78 percent and 0.78 percent by the end of 2020.
GPFG held 321.8 billion yuan of China assets by the end of last year, a majority of which were stocks.
It managed in total 10.9 trillion Norwegian krone or 8.3458 trillion yuan of assets by the end of 2020, with equity assets, fixed-income assets and real estate investment accounting for around 72.8 percent, 24.7 percent and 2.5 percent respectively.
The fund earned a 10.9 percent of ROR in 2020, with the ROR of equity assets at 12.1 percent, mostly contributed by science and technology driven firms. (Edited by Duan Jing with Xinhua Silk Road, duanjing@xinhua.org)