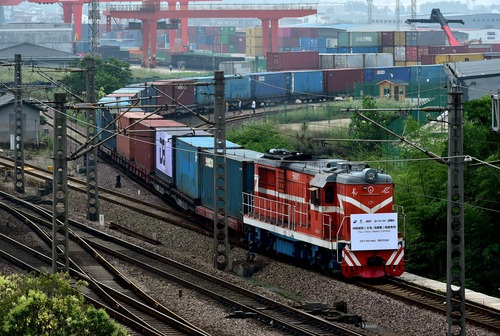 A China-Europe freight train carrying medical supplies bound for Madrid of Spain departs the city of Yiwu, east China's Zhejiang Province, June 5, 2020. (Photo by Lyu Bin/Xinhua)
BEIJING, Feb. 9 (Xinhua) – Yiwu, the world's leading small commodities market located in east China's Zhejiang Province, saw its foreign trade reach 312.95 billion yuan in 2020, up 5.4 percent year on year, reported Zhejiang Daily Monday.
In 2020, Yiwu has been committed to assisting enterprises to expand sales of foreign trade through online platform, and it has launched an online platform www.chinagoods.com that relies on the resources 75,000 physical stores in the Yiwu International Trade Market.
The platform serves enterprises in the upstream industrial chain. It generally helps these export businesses improve their links with overseas and domestic buyers.
While expanding the online trading platforms, Yiwu also strives to optimize its logistics service to facilitate foreign trade. In 2020, the Dubbed Yixin'ou in Chinese (Yiwu-Xinjiang-Europe) cargo train service, launched 13 freight routes and witnessed departure of 974 trains throughout the years, carrying 80,392 TEUs of goods, an increase of 90.2 percent year on year, to countries and regions such as Madrid, the Czech Republic, and Moscow.
Meanwhile, the city also launched a global logistics information platform named YDH Express that provides full range of international transportation solutions and professional logistics services. By far, the platform has launched 105 exclusive logistics lines covering more than 600 cities in 66 countries.
In addition, the local authorities in Yiwu issued preferential policies related to foreign trade and taxation, aiming to facilitate the resumption of work and production and foreign trade of local enterprises amid the COVID-19 epidemic, and further optimize the local business environment.
(Edited by Jiang Feifan with Xinhua Silk Road, 346129473@qq.com)