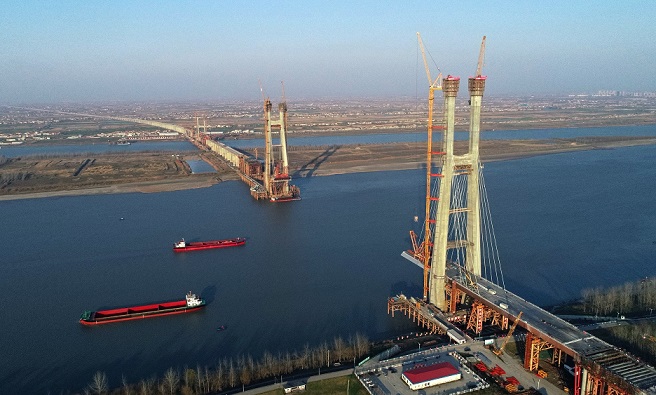 BEIJING, Jan. 28 (Xinhua) -- As China will push forward the high-quality development and deepen supply-side structural reform during the 14th Five-Year Plan period (2021-2025), five major indicators can be adopted to measure the high-quality development, said Xiao Gang, former head of the China Securities Regulatory Commission (CSRC) in the China Wealth Management 50 Forum (CWM50) held recently.
Xiao noted that the first indicator is per capita gross domestic product (GDP) or per capita national income. China will basically realize socialist modernization by 2035 and strive to double the total economic volume or per capita income.
The second indicator is the labor productivity. China should continue increasing labor productivity and labor remuneration in a bid to achieve the high-quality development, said Xiao.
Xiao regarded the convenience of doing business as the third major indicator. He pointed out that it is crucial to build a stable, transparent and predictable institutional environment in the long run.
The fourth indicator refers to the proportions in the manufacturing sector, namely the proportion of manufacturing output value in GDP and the proportion of manufacturing added value in the total manufacturing output value, said Xiao.
Xiao noted that the fifth indicator is the macro leverage ratio.
According to Xiao, from a national perspective, these indicators are very crucial. Reform is necessary in order to raise the indicators to a higher level and achieve the high-quality development. The coordinated development of finance, property and real economy and the stabilization of macro leverage ratio can not be realized without reform. Hence, deepening reform in a comprehensive way is the key to a new development pattern. (Edited by Zhang Yuan, zhangyuan11@xinhua.org)