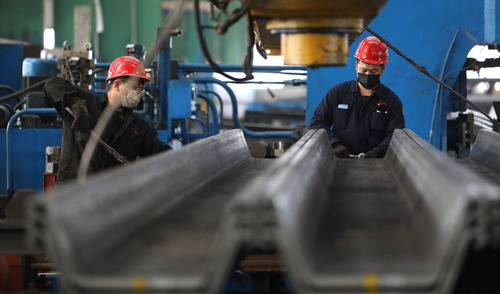 People work at a plant of Anshan Zizhu Sci & Tech Profile Steel Co., Ltd. in Anshan, northeast China's Liaoning Province, April 15, 2020. (Xinhua/Yao Jianfeng)
BEIJING, Jan. 12 (Xinhua) -- China's steel consumption is expected to increase by 150-200 million tonnes during the 14th Five-Year Plan period (2021-2025), and the domestic iron and steel industry will usher in good development opportunities in 2021, industry experts said recently.
China's steel consumption will reach 1.15 billion tonnes or more in 2020, said Cai Jin, vice president of the China Federation of Logistics and Purchasing, adding that during China's 14th Five-Year Plan period, the steel industry or steel consumption growth will remain at the level of 3-4 percent when the economic growth target is 6 percent.
As for the development of China's iron and steel consumption, metallurgical industry professional forecasts that China's steel consumption will show a small increase in 2021, and it would remain high in the short term.
Meanwhile, under the role of active fiscal policies such as increasing tax reduction and fee reduction and expanding government investment, the demand growth of construction and other major downstream iron and steel enterprise will drive the rise of China's steel consumption.
For the scrap field, expert said that the utilization proportion of scrap steel resources in China has climbed from 11.2 percent during 2011-2015 to 20.5 percent, realizing the target of 20 percent in the 13th Five-Year Plan two years ahead of schedule.
Everbright Futures (EBF) predicts that domestic industries in various sectors may rise in turn in 2021. In the context of the global economic recovery, the entire domestic steel price may reach more than 5,000 yuan.
(Edited by Jiang Feifan with Xinhua Silk Road, 346129473@qq.com)