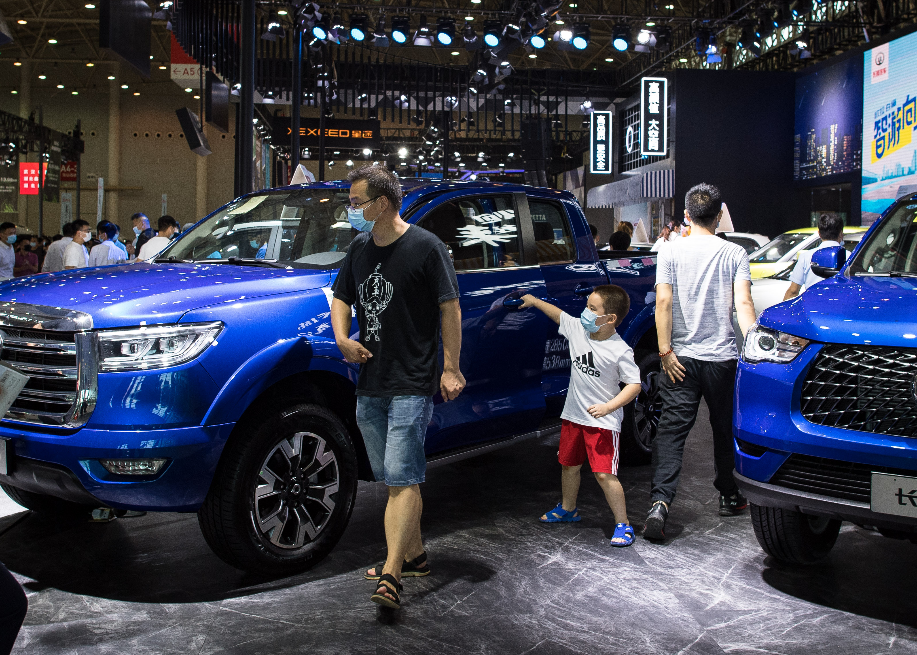 People visit an auto show in Wuhan, capital of central China's Hubei Province, Aug. 13, 2020. More than 60 brands took part in the 18th Central China International Auto Show which started on Thursday. (Xinhua/Xiao Yijiu)
BEIJING, Jan. 11 (Xinhua) -- China's automobile market is expected to have 26.3 million vehicles sold in 2021, representing a year-on-year increase of about 4 percent, estimated by the China Association of Automobile Manufacturers (CAAM), according to Xinhua-run Economic Information Daily on Monday.
The upbeat estimate is attributed partly to the country's efforts to promote the vehicle consumption.
A total of 12 ministries and departments led by the Ministry of Commerce (MOC) have recently unveiled policies to expand the consumption of key commodities.
The local authorities will be encouraged to finetune restrictive measures regarding car purchasing and promote vehicle consumption in rural areas and the scheme of trading in used cars for new ones.
In rural areas where conditions permit, residents will be encouraged to buy trucks with capacity no more than 3.5 tonnes and passenger cars with engines no bigger than 1.6 liters. Car buyers will be subsidized for phasing out the gasoline powered vehicles of national emission standard III or below, according to the policies.
In addition to the policies issued by the central authorities, the local governments are also joining the efforts to promote automobile consumption.
North China's Tianjin Municipality has recently solicited public opinion on measures to further promote automobile consumption.
It is learned that the city plans to add 35,000 license plate quotas for passenger car purchases.
According to the statistics of the CAAM, China's automobile industry is expected to see sales of 2.802 million vehicles in December 2020, a year-on-year increase of 5.4 percent. For the full year, the sales are estimated to be about 25.27 million vehicles, a year-on-year decrease of 1.9 percent.
In 2020, the COVID-19 epidemic had a significant impact on the domestic auto industry. After the effective epidemic control, the domestic auto industry overcame the difficulties, such as supply chain disruptions at home and abroad, and shortages of parts and components, and quickly resumed production.
It is worth noting that the new energy vehicles (NEVs) outperformed last year. Since February 2020, the domestic NEV sales have risen month by month. In the first 11 months of 2020, the NEV sales reached 1.109 million units, an increase of 3.9 percent year-on-year. In the full year of 2020, the domestic NEV sales are projected to stand at 1.3 million units.
Ye Shengji, deputy secretary-general of the CAAM, predicted that the country's NEV sales growth rate is likely to exceed 30 percent in 2021, with 1.8 million vehicles expected to be sold. (Edited by Hu Pingchao with Xinhua Silk Road, hupingchao@xinhua.org)