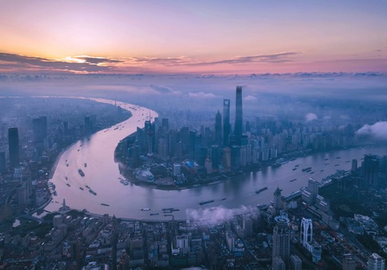 BEIJING, Jan. 5 (Xinhua) -- Construction on 64 major projects with a total investment of 273.4 billion yuan kicked off on Monday in east China's Shanghai, reported Shanghai Securities News Tuesday.
The 64 major projects cover a wide range, including forward-looking projects like integrated circuits, biomedicine and artificial intelligence, as well as high-end industrial chain projects in the fields of science and technology, finance and trade.

With the vigorous development of the new digital economy, Shanghai is using more and more resources and space for development, focusing on creating a new carrier for industrial development, and providing a broader development stage for leading enterprises.
At the same time, the two online new economy ecological parks namely Zhangjiang Online and Changyang Xiudai were officially unveiled, with a total planned area exceeding 1,100 hectares.
In the next three years, the two parks are expected to increase industrial revenue by 200 billion yuan, and will make every effort to build them into the first choice for the digital new economy enterprises. At present, the first batch of enterprises such as ByteDance and Bilibili have planned to settle in.
In the next step, based on policy preference and its own advantages, Shanghai will focus on key areas and key fields, making efforts to promote the implementation of a number of landmark major projects.
(Edited by Gao Jingyan with Xinhua Silk Road, gaojingyan@xinhua.org)