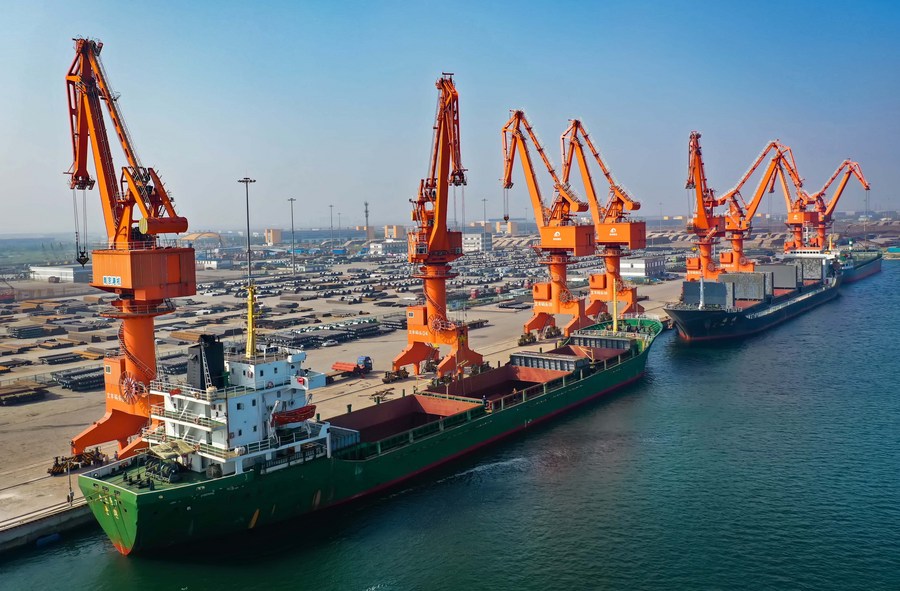 Aerial photo taken on Aug. 27, 2019 shows cargo ships berthed at a wharf of Wenfeng port in the China (Hebei) Pilot Free Trade Zone Caofeidian area in north China's Hebei Province. (Xinhua/Yang Shiyao)
BEIJING, Dec. 29 (Xinhua) -- China's GDP growth may register about 8.8 percent throughout the year of 2021, reported stcn.com Monday quoting a Chinese expert.
Affected by economic recovery, base effect and other factors, China's economic growth may experience significant fluctuations, and showed the trend of "being high first and then being low" in 2021, said Lian Ping, head of the Zhixin Investment Research Institute, a think tank based in Shanghai.
Lian forecast that China's GDP growth in the first quarter of 2021 may reach 12 to 14 percent, and then gradually recover to the trend track.
In Lian's opinion, the continuous, stable and sustainable macro policies, the 14th Five-Year Plan and the Long-Range Objectives Through the Year 2035, the active replenishment of the inventory and the global economic recovery promoted by the weakening U.S. dollars will work in concert to support a steady economic recovery of China in 2021.
As China has stressed to focus on the management of the demand side while pursuing the supply-side structural reform at the recently-held Central Economic Work Conference, Lian speculated that the domestic demand will recover in a more stable manner in 2021.
He believed that the investment in manufacturing and new infrastructure will be on rise in 2021, and forecast that the investment in fixed asset may increase by 8 percent, with that in manufacturing by 11 percent, in real estate by 6 percent and in infrastructure by 5 percent.
With the continuous and effective control of the COVID-19 pandemic, the continuous economic recovery and the building of the new development pattern, he predicted that in 2021, China's total retail sales of consumer goods may rise by 10 percent, the exports denominated in U.S. dollars by 12 percent and the industrial added value by 9.5 percent.
Lian also warned that high attention should be paid to related risks such as the increase of non-performing assets in the banking sector, the defaults in the bond market and the big fluctuation of the RMB exchange rate, and measures should be taken to prevent such risks.
(Editedby Gu Shanshan with Xinhua Silk Road,gushanshan.1987@163.com)