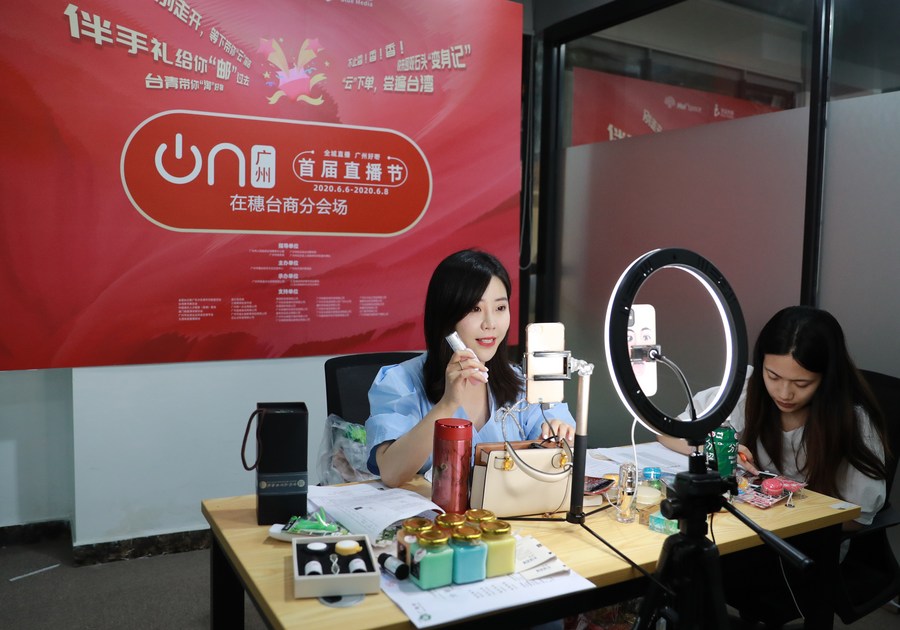 BEIJING, Dec. 17 (Xinhua) -- The outbreak of COVID-19 epidemic in 2020 has brought a huge impact to many industries, but China's short video industry bucks the trend, achieving robust development amid the epidemic.
-- Attracting more users
According to a research report on China's development of network audio-visual industry released by China Netcasting Services Association (CNSA), the number of short video users in China had surged to 818 million as of June 2020, accounting for 87 percent of the total number of Chinese internet users.
Short video platforms have gained strong momentum as short video tops the audio-visual industry in terms of daily usage, which is about 110 minutes per day on average for each user, said Zhou Jie, executive deputy secretary general of CNSA.
Affected by the COVID-19 epidemic, with millions of people staying at home to curb the spread of the virus, short videos have become some of the most popular means of entertainment.
During China's Lunar New Year holiday, which started from January 24 this year, the time people spent on short video apps has overtaken that on mobile games.
Data from Urora, a big data service provider in China, shows that the daily active users (DAUs) on Douyin hit 311 million during the holiday, up 93.1 percent year on year, while its main rival Kuaishou saw 177 million DAUs, with an increase of 55.8 percent year on year.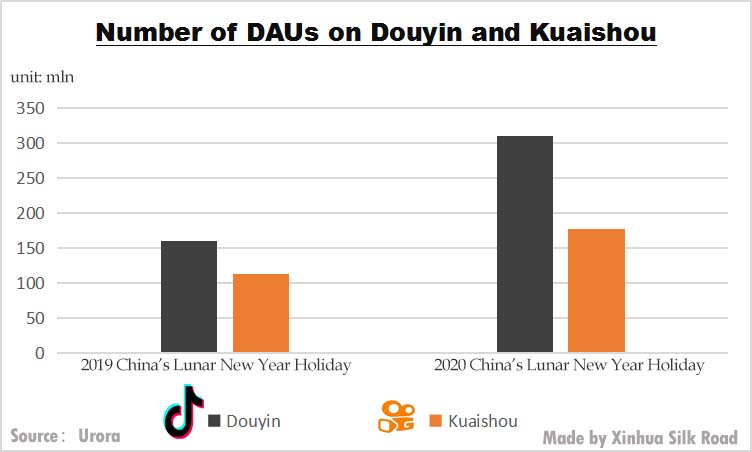 -- Empowering traditional industries
Short video industry has continued to penetrate into e-commerce, tourism, education, livestreaming and other fields, promoting changes in the multi-dimensional market structure.
"Short videos are no longer just entertainment, they have overlapped and penetrated into various fields, and will not only affect the entire audio-visual industry, but even the national economy," said Zhou.
"Cloud tourism" has entered the lives of more people, the pace of digital tourism has been accelerating, and the interaction between short videos and tourism has become more frequent and in-depth.
Incorporating short video into tourism industry, people's travelling habits have been changed. They look for travel tips in short videos before trips, and film short videos to share travel moments when travelling.
Local tourism authorities, tourist attractions and tourism companies have begun to cooperated with short videos, and many government official accounts have entered the short video platforms to promote local cultural tourism resources.
School and learning institutions also teamed up with short video platforms. Affected by the COVID-19 epidemic at the beginning of this year, China's Ministry of Education has encouraged schools to provide internet lessons.
On February 9, Kuaishou reached a strategic cooperation with xuetangx.com, an online course platform launched by Tsinghua University, to provide online classes for millions of students. The university's first lesson in the spring semester was given on Kuaishou through live-streaming, gaining more than 100,000 views and 65,2000 likes.
Meanwhile, online consumption based on short video platforms is booming. On April 6, one of China's most influential livestreamer Li Jiaqi, together with a renowned China Central Television (CCTV) anchor Zhu Guangquan, staged a two-hour special live broadcast for the central China's Hubei Province, once hit hard by COVID-19, to promote local specialties such as mushrooms, lotus roots and tea. The charity sale attracted 120 million viewers and sold products worth 40.14 million yuan (about 6.14 million U.S. dollars).
The COVID-19 may accelerate changing consumption habits in the long run, with people becoming more accustomed to online shopping, said Chen Tao, a senior e-commerce industry analyst at consulting firm Analysys.
-- Absorbing investment
The popularity of short videos is also reflected in the capital market.
In early November, Kuaishou formally submited a prospectus to the Hong Kong Stock Exchange for listing, aiming to raise 5 billion U.S. dollars and bringing the valuation at around 50 billion U.S. dollars.
According to the prospectus, in the first half of this year, its total revenue amounted to 25.3 billion yuan, up 48 percent year on year.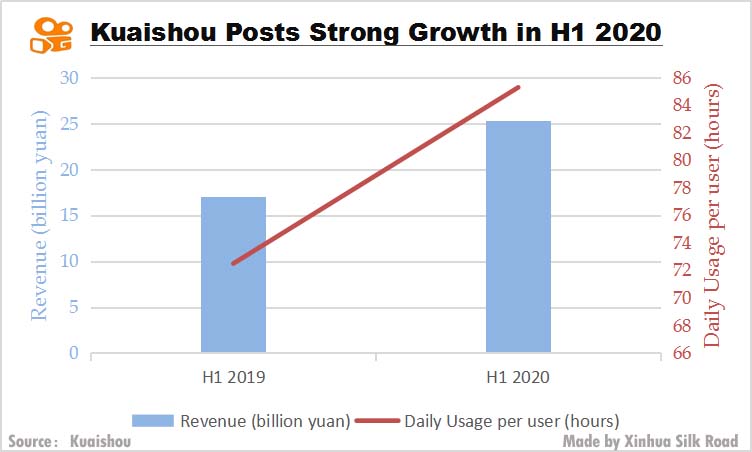 Douyin's parent company ByteDance revealed that it is negotiating a new round of financing with a total value of 2 billion U.S. dollars to promote the listing of mature businesses including Douyin in Hong Kong.
Netjoy, a leading short video marketing service provider in China, has been listed in Hong Kong on December 17, raising the total capital of 1.293 billion Hong Kong dollars (about 166.79 million U.S. dollars).
A short video editor app VivaVideo has recently received an investment of 400 million yuan in its C round financing, and the company has signed an agreement with Guotai Junan Securities to pace up its IPO.
-- New development trends
The future development of short video industry will embrace new trends in content, participant and technology, pointed out by experts from the industry when participating in the 2020 short video conference held in Xiamen, southeast China's Fujian Province.
Story from a small perspective will be the trend in content production. Producers for popular short videos all highlighted words like "truth," "daily life", making short videos resonate with viewers.
In terms of the participants of short videos, besides of good-looking internet celebrities, the spotlight will be shone on more professions, such as writers, lawyers, doctors, and government officials, said Xu Lijun, general manager of CTR Market Research.
Traditional media will also intensify efforts in the field of short videos. Li Wei, an editor-in-chief with CCTV, pointed out that traditional media should embrace the possibilities brought by new media, adding that to date, CCTV have staged 23 livestreamings to help selling local products, with a total sales volume hitting 5.24 billion yuan.
Moreover, with the wider application of 5G, artificial intelligence (AI) and big data, new technologies will fuel the development of short video industry by improving the users' viewing experience, said Wang Xiaohong, a professor with Communication University of China.
(Contributed by Li Shimeng with Xinhua Silk Road, lishimeng@xinhua.org)