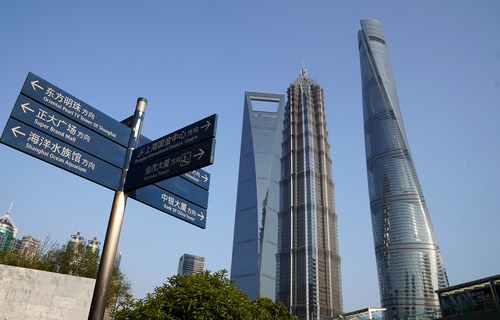 BEIJING, Dec. 17 (Xinhua) -- China remains a strong magnet for foreign capital as the country's economic recovery gathered steam in the wake of effective control of COVID-19 pandemic.
In November, the actual use of foreign direct investment (FDI) into the Chinese mainland expanded 5.5 percent year on year to 98.7 billion yuan (14.38 billion U.S. dollars), the Ministry of Commerce said on Tuesday.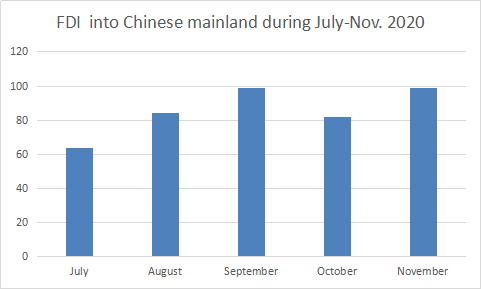 Source: China's Ministry of Commerce
This marked the eighth consecutive month for the country to witness positive growth in FDI. In the first 11 months of this year, China's FDI rose 6.3 percent year on year to 899.38 billion yuan, the data showed.
-- China's economic resilience enhances confidence of foreign investors
China is now leading the charge for a global recovery, as its gross domestic product (GDP) growth bounced back into positive territory of 0.7 percent year on year in the first three quarter of this year.
In the third quarter of this year, the country's GDP expanded 4.9 percent year on year, versus the 3.2-percent growth seen in Q2 and 6.8-percent contraction in Q1, data from the National Bureau of Statistics showed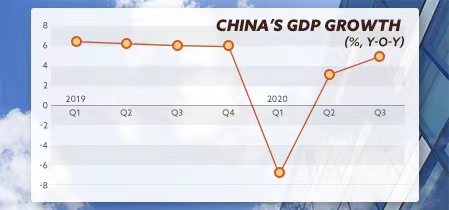 Source: China's National Bureau of Statistics
Taking the textile and garment industry as an example, China's domestic textile enterprises recovered from the downturn in the first four months of this year and resumed its bustling activities since May due to the country's effective pandemic prevention and control.
In the August-September period, the country's exports of textiles and apparel reached a record high as the sector saw mounting orders transferred from other countries such as India due to the pandemic.
China's huge market potential and its strong economic resilience have further enhanced the confidence of foreign-funded enterprises, said Li Chaodong, vice president of Nu Skin Greater China, adding that NU Skin will resolutely expand its investment in China and share opportunities bought by the country's constant widening of opening-up and high-quality development.
-- foreign-funded enterprises bet big on China this year
Though the global auto market took a severe blow due to the COVID-19 pandemic this year, foreign automakers witnessed strong business growths in China, which to some extent boosted foreign capital's confidence, and let more foreign-funded enterprises increase their investment in China.
On December 2, Daimler Truck AG, the commercial vehicle unit of German automaker Daimler, and Beijing-based Beiqi Foton Motor Co., Ltd. jointly announced that they will produce and distribute Mercedes-Benz tractors in China.
Daimler Truck AG will invest more than 3.8 billion yuan for the acquisition of the new plant in Huairou, Beijing, owned by a joint venture between Daimler and Beiqi Foton, as well as the set-up of new infrastructure and production lines.
As the world's largest truck market, China is of significant importance to Daimler Truck AG and has become one of the most important markets for its business growth, said Martin Daum, CEO of Daimler Truck AG.
Despite severe challenges posed by COVID-19 this year, the overall situation in China is still upbeat, said Jochen Goller, president and CEO of BMW Group in China, adding that the BMW Group is very optimistic about China's mid- and long-term development and will unswervingly support China and continue investing in China.
According to Goller, BMW is scheduled to invest about 24 billion yuan in China in the following two to three years.
It is reported that JPMorgan Asset Management has bet big on China's booming logistics sector.
JPMorgan Asset Management established this year a 600-million-U.S. dollars joint venture (JV) with New Ease China to capitalize on the logistics sector in China as the country saw its online shopping skyrocket in recent years.
In August, German life science company Bayer announced its plan to invest 50 million euros in the expansion of its existing plant in Beijing in an attempt to provide a reliable supply of high-quality prescription drugs for more Chinese patients.
Wei Jiang, president of Bayer Group Greater China, said that the move showed the company's determination to serve more Chinese patients and meanwhile, demonstrated Bayer's unswerving confidence in and commitment to Chinese market.
China's Foreign Ministry spokesperson Zhao Lijian pointed out that a large number of foreign-funded companies, such as Siemens, Toyota, LG and ExxonMobil, have expanded their investment and production in China, signaling that more and more multinational companies are optimistic about the commercial prospects of Chinese market and are willing to share China's development opportunities.
Zong Changqing, an official with the Ministry of Commerce (MOC), previously forecast that foreign investors will reap more China's development dividends, as the country continued efforts to ease market access, especially in areas such as modern service and high-end manufacturing sectors, with an aim to offer greater opportunities for foreign capital.
(Edited by Yang Yifan with Xinhua Silk Road, yangyifan@xinhua.org)