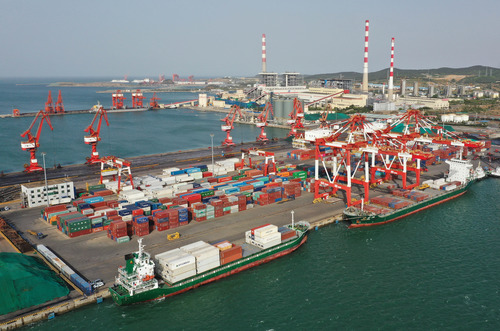 Aerial photo taken on May 13, 2020 shows the container terminal of Weihai Portin Weihai City, east China's ShandongProvince. (Xinhua/Zhu Zheng)
BEIJING, Dec. 14 (Xinhua) – East China's Shandong Province has recently vowed 15 detailed measures aimed at further improving the business environment and providing better administrative services for the market entities, reported local newspaper last Friday.
The measures focus on streamlining the government examination and approval process, improving efficiency and saving costs, to promote the high-quality social and economic development of the province.
Specifically, Shandong will further lower the entry threshold for market entities, remove other negative lists set for violation of regulations, and clean up the unreasonable standards and conditions set for enterprises in the fields of engineering construction, education, and health care.
The province would reduce operating costs of small and micro enterprises. Before the end of this year, Shandong will implement the construction bonding system to reduce burden on enterprises taking up funds.
Priority will be given to support Shandong's foreign trade enterprises in expanding the domestic market. Shandong will implement production licensing for food-related products, wires and cables, dangerous chemical packaging and containers, and renew the license for special equipment in the form of self-declared commitment.
In order to better serve the market entities, Shandong Province will establish a regular communication mechanism between government and enterprises, start the verification process within one working day, and resolve or confirm the service within 15 working days.
It is noted that in May this year, Shandong Province issued 18 measures to optimize the business environment, making efforts in such aspects as raising the level of enterprise facilitation, overcoming the difficulties of enterprises, and providing convenient and efficient government services.
(Edited by Jiang Fiefan with Xinhua Silk Road, 346129473@qq.com)