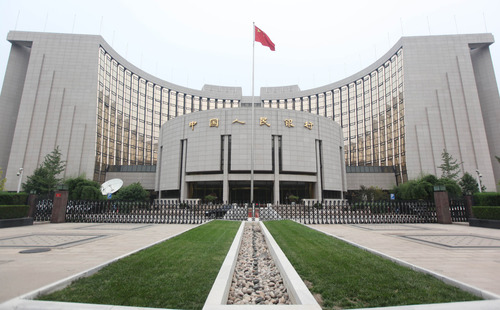 Photo: People's Bank of China, the country's central bank.
BEIJING, Dec. 4 (Xinhua) -- China's central bank and the country's top banking and insurance regulator on Thursday jointly issued measures on how to identify domestic systematically important banks (D-SIBs), according to Shanghai Securities News.
The measures applies a comprehensive approach to the assessment of D-SIBs in terms of scale, affiliation, replaceability and complexity. It focuses on banks' impacts on the financial system once risks occur, rather than purely assessing risks.
China's financial system largely counts on indirect financing. Chinese lenders are large in size, mostly dealing with trans-regional and trans-industrial transactions. Thus, the threshold for D-SIBs was set at 100 rather than 300 to include more banks, People's Bank of China (PBOC) said.
According to the rules, a list of 30 banks will be reviewed. By the end of 2019, the total assets of the 30 banks exceeded 200 trillion yuan, accounting more than 70 percent of the sector's total, according to official data.
The banking regulators said in a press conference that the 2008 international financial crisis has cast light on the regulation of systematically important financial institutions to fend off the risk of "too big to fall".
Therefore, the Basel Committee on Banking Supervision (BCBS) introduced a global standard for global systematically important banks (G-SIBs) in 2011. Once the banks are regarded as systemically important ones, they would be asked to comply with higher regulatory standards, such as stricter liquidity and capital requirements. China's assessment mechanism is largely based on it with some domestic elements.
Bank of China Ltd, Agricultural Bank of China Ltd, Industrial & Commercial Bank of China Ltd, and China Construction Bank Corp were in the 2020 list of 30 global systemically important banks, or G-SIBs, published by the international Financial Stability Board in November 2020.
The PBOC will also take precautions at an early stage when issues arises, such as fast expansion, high credit concentration and extreme complex structure, to resolve risks facing D-SIBs in an effort to strengthen the stability of the banking sector, said the regulators.
(Edited by Li Shimeng with Xinhua Silk Road, lishimeng@xinhua.org)