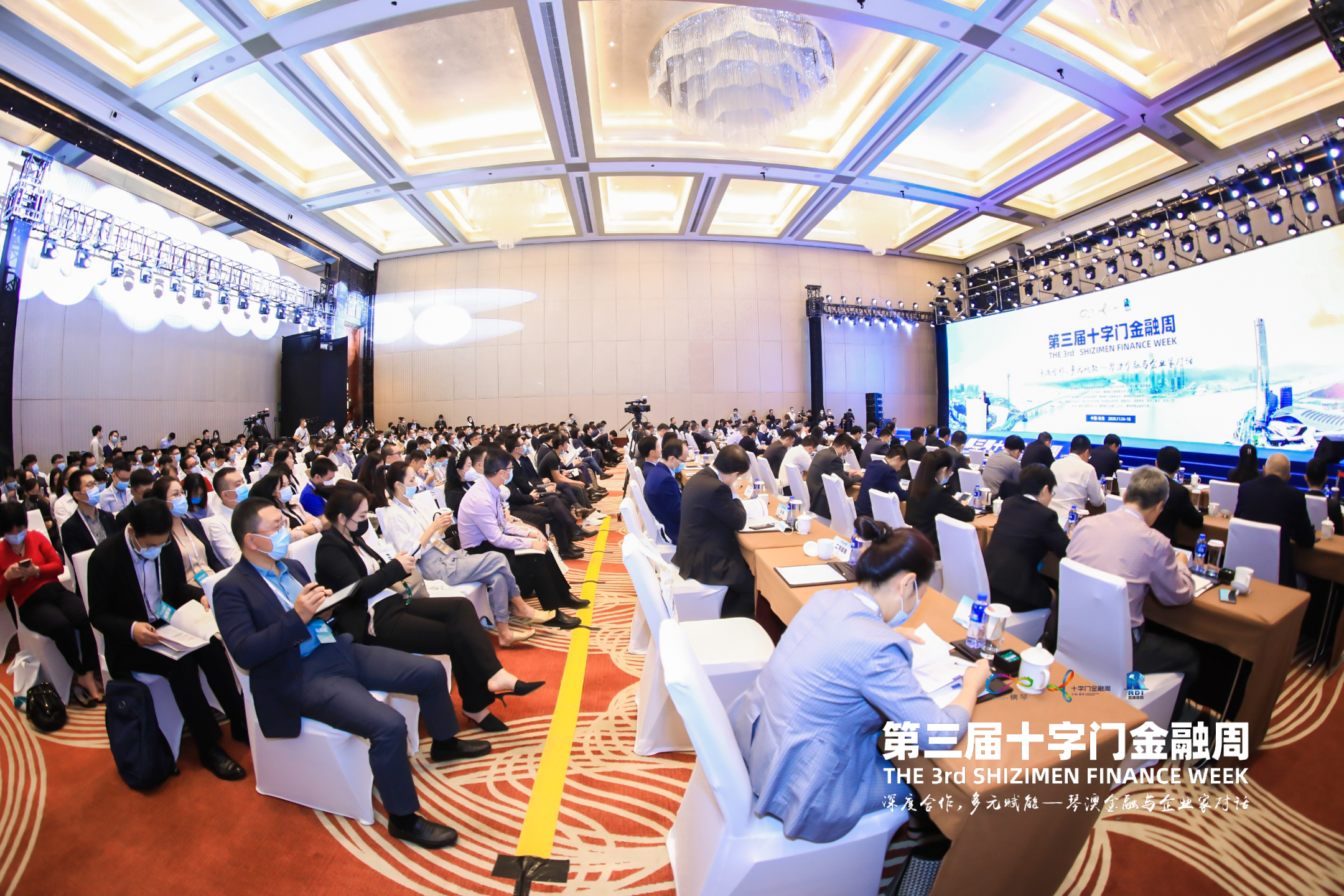 Photo: The site of the opening ceremony of the 3rd Shizimen Finance Week, which was kicked off in Zhuhai, south China's Guangdong Province on Tuesday.
BEIJING, Nov. 18 (Xinhua) -- The 3rd Shizimen Finance Week dedicated to promoting and enabling cooperation between finance and industrial sectors of Hengqin New Area of Zhuhai and Macao, commenced in Zhuhai, south China's Guangdong Province on Tuesday.
The event launches five sections such as the high-end discussion session, special report session and high-end consulting session, opening ceremony forum, dialogue between financial institutions and entrepreneurs in Hengqin and Macao and "finance plus" theme forum.
Guo Yonghang, party chief of Zhuhai, said that Zhuhai has always attached great importance to leveraging the role of finance as the core of modern economy and the local finance industry has grown as the pillar of local economy and also brought up Zhuhai's economic and social development in the past four decades since foundation of the Zhuhai special economic zone.
Currently, Zhuhai is cranking up efforts in financial reform and innovation so as to deepen the Guangdong-Hong Kong-Macao financial cooperation, Guo highlighted.
Zhao Baige, chairperson of the the Advisory Committee of the "Belt and Road" Initiative International Think Tank affiliated to the Chinese Academy of Social Sciences (CASS), outlined three aspects to boost development of finance and industrial sector of Zhuhai and Macao. First of all, institutional innovation shall be explored to facilitate development of finance industry. Secondly, finance business innovation and infrastructure construction shall be reinforced together with further opening up of the financial sector to boost facilitation to financing and fund flow in Guangdong-Hong Kong-Macao. Finally, a greater role of the vigorous real economy shall be played to grow a backbone for developing the modern financial system, according to Zhao.
Jin Liqun, president of the Asian Infrastructure Investment Bank (AIIB), pointed out that Zhuhai paid great attention to cooperation between Zhuhai and Macao and to development of its Hengqin New Area, which embodies the concept of win-win cooperation as reflected in establishment of new mechanisms for leveraging advantages of Macao and Hengqin New Area of Zhuhai, setup of new rules systems for further improvement of their investment and trade environment and avoidance of homogenized competition with surrounding areas or other special economic zones and free trade zones.
Lu Xin, a research fellow with the Counsellors' Office of the State Council, suggested that Hengqin shall put the development of industrial Internet into its strategic plans and well tackle and complete four tasks such as boosting industrial chain optimization, crafting advantageous section of its industrial and supply chains, complementing the disadvantageous end of its industrial and supply chains and enhancing international industrial safety cooperation.
Zhu Jiaming, a reputed economist in China released in the name of the joint working team between the Research and Development International (RDI) and Hengqin digital chain and digital finance research institute the "Digital Alliance Initiative", which aims to take Hengqin and Macao as the base of cooperation to participate in Guangdong-Hong Kong-Macao Greater Bay Area construction.
This year, the 3rd Shizimen Finance Week is themed on "profound cooperation, multiple enablement - dialogues between financial institutions and entrepreneurs of Hengqin and Macao". (Edited by Duan Jing with Xinhua Silk Road, duanjing@xinhua.org)