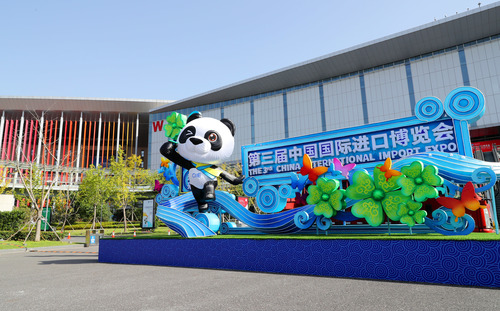 SHANGHAI, Nov. 10 (Xinhua) -- The purchase amount of Carrefour China is expected to exceed 200 million yuan during the ongoing 3rd China International Import Expo(CIIE), which equals its total purchase amount at the previous two CIIEs, said Zhang Qizhe, COO of Carrefour China, during an interview with Xinhua News Agency.
In recent years, consumption upgrading and stratification in domestic market is becoming an obvious trend. More and more high-end customers have a strong demand for products and pay more attention to efficiency, quality, service and cost performance ratio.
Therefore, Carrefour, who has been acquired by Chinese e-commerce giant Suning.com last year, adjusted its purchasing strategy after gaining insights into the changes of consumer demands. At this year's CIIE, Carrefour put emphasis on imported fruits. The company signed contracts with first-tier suppliers to optimize Carrefour's supply chains in a bid to further improve efficiency and ensure quality.
According to Zhang, Carrefour exhibited more than 200 products at this year's CIIE, including 31 overseas brands of leisure food, drinks, and beer, as well as French snow fish, Peru's blueberry and New Zealand's avocado from more than 10 countries, including Italy, France, Argentina, Vietnam, Peru and New Zealand, etc.
Carrefour will continue to play the role of" international buyer " at the this year's CIIE, Zhang said, adding that with the unique advantages of global procurement and supply chain, Carrefour will introduce more high-quality goods from all over the world into the Chinese market, and constantly meet the personalized and diversified consumer demands.
Since the beginning of this year, Carrefour has vigorously promoted home delivery service, as consumers are more likely to shop online due to the outbreak of the COVID-19 pandemic.
Customers within 3 km of Carrefour stores can enjoy 1-hour fast delivery. The "vegetable basket" channel, launched by the company in August this year, focuses on the needs of consumers for three meals a day. (contributed by Zhang Siwen, zhangsiwen@xinhua.org; Edited by Yang Yifan with Xinhua Silk Road, yangyifan@xinhua.org)