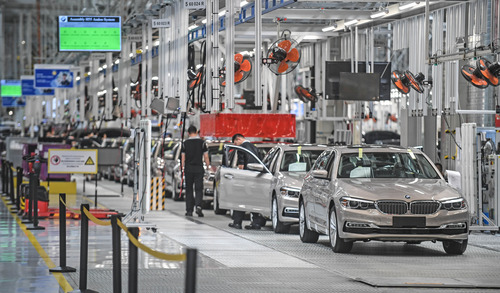 File photo taken on May 23, 2018 shows employees working at the production line of Dadong Plant of BMW Brilliance Automotive (BBA) in Shenyang, northeast China's Liaoning Province. (Xinhua/Pan Yulong)
BEIJING, Nov. 6 (Xinhua) -- Northeat China's Shenyang area of China (Liaoning) Pilot Free Trade Zone (FTZ) recently introduced 18 measures to standardize the operation of foreign-invested equity investment enterprises in the area, reported Liaoning Daily Wednesday.
The measures mark the formal launch of the Qualified Foreign Limited Partner (QFLP) policy in Shenyang, which is an effective move to attract overseas investment.
To be specific, Shenyang expands the scope of QFLP administrator, namely, while allowing foreign fund administrator to manage domestic and foreign funds, the qualified domestic fund managers are allowed to participate in QFLP management of foreign funds.
Shenyang will abolish the restrictions on minimum registered capital and focus on regulating the sources of foreign capital, shareholders and partner qualifications. At the same time, the policies call for simplifying the registration process and application conditions for foreign investment. At present, there are 515 financial enterprises in Shenyang Area, covering banking, insurance, securities, financial leasing and other industries.
(Edited by Jiang Feifan with Xinhua Silk Road, 346129473@qq.com)