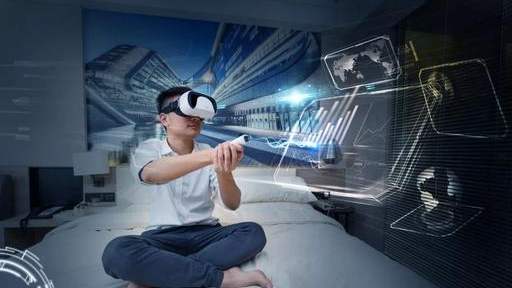 BEIJING, Oct. 22 (Xinhua) -- In the past two years, with the rapid development of 5G communications, high-definition display and high-performance visual computing technology, virtual reality (VR) pan-entertainment has become a new growth point in the global entertainment game industry.
In the sub-forum of the 2020 World Conference on VR Industry which was concluded on October 20, industry experts widely believed that although VR entertainment game industry still faces problems such as inconsistent technical standards and insufficient high-quality content, its users have increased substantially. It has entered a rapid development period and boasted a brilliant future.
VR game industry has witnessed its revenues and users surge sharply. According to a report released by the e-sports branch of the China Information Industry Trade Association, the year 2019 is an important turning point for global VR game industry. The total revenues of VR and Augmented Reality (AR) games in 2020 reached 6.3 billion U.S. dollars.
Data on the Steam platform shows that the number of users who connect Steam VR headsets in the first half of 2020 accounted for a record high proportion among the monthly active users on the entire platform. The total number of devices has increased to about 2 million units.
"The data increase can be mainly attributed to the advance of VR technology," a source from an A-share game company said, adding that the upgrading of headset equipment, maturity of high-definition display technology, and high-quality games enable more and more players to enjoy the fun of VR.
Some industry analysts believed that high-quality game content can obviously drive the sales growth of hardware. VR games have become one of the main driving forces for the development of VR industry.
Besides, 5G has served as a catalyst for the development of VR entertainment games.
"With the implementation of 5G networks, smart wearable devices will become a new growth point in the field of consumer electronics," the aforementioned source noted, adding that VR entertainment game industry should make good use of the favorable policies in "new infrastructure" and speed up the pace of integration with 5G.
The advent of the 5G era will make VR games get upgraded. Liang Shouxing, senior vice president of Kingsoft Cloud, stated in the forum that all games run on the server under the cloud game operation mode. The technical challenge of VR cloud games is streaming media playing technology.
"In the future, VR cloud games will lead to great changes in the game industry," said Liang.
"5G high-speed transmission promotes the development of cloud VR/AR. Low time-lag enhances the VR users' experience. Pan-entertainment will become the most promising one in VR applications," said a brokerage research report, adding that the popularization of 5G is expected to further boost the development of VR game industry. By 2022, the VR/AR market is likely to approach 500 billion yuan. (Edited by Zhang Yuan with Xinhua Silk Road, zhangyuan11@xinhua.org)