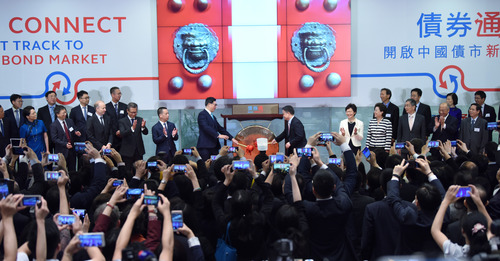 BEIJING, Oct. 21 (Xinhua) -- Bond Connect Company Limited (BCCL) embraced the first batch of bonds issued via its newly-launched overseas bond issuance system ePrime on Tuesday.
The ePrime is an overseas electronic platform for primary market bond issuance and also serves overseas investors in subscribing bonds on China's interbank bond market.
On Tuesday, Chinese policy bank Agricultural Development Bank of China (ADBC) issued 5.7 billion yuan of 3-year, 5-year and 10-year fixed-rate bonds via ePrime, with their yield fixed-rates at 3.05 percent, 3.25 percent and 3.80 percent respectively.
Being 2.69 times subscribed, the coupon rates of the three products were 27 basis points (bp), 30 bps and four bps lower than comparable products' Tuesday.
The batch of bond products were available for trading on five exchanges including Luxembourg Stock Exchange, London Stock Exchange, China Europe International Exchange, Singapore Exchange and ChongWa (Macao) Financial Asset Exchange.
BCCL is a joint venture established by China Foreign Exchange Trade System (CFETS) and Hong Kong Exchanges and Clearing Limited (HKEX) to support Bond Connect related trading services. Bond Connect is a mutual market access scheme allowing investors from the Chinese mainland and overseas to trade bonds on each other's interbank bond markets.
Besides, BCCL rolled out the Primary Market Information Platform (PMIP) to support bond issuers and underwriters in China to release English bond issuance information to global investors. Year to date, 24 bond issuers and underwriters have released information for nearly 3,000 batches of bonds on PMIP.
According to BCCL, it has signed agreements with more than a dozen of overseas bond underwriters to cooperate in improving overseas bond issuance efficiency. (Edited by Duan Jing with Xinhua Silk Road, duanjing@xinhua.org)