The United Nations Office for South-South Cooperation (UNOSSC) and China-Africa Development Fund (CADFund) have published the South-South In Action series of seven case studies showing the great impact made by the CADFund in Africa in advancing the achievement of the UN sustainable development goals (SDGs).
The cases present some of the best practices in South-South and triangular cooperation initiatives and provide a window for Southern partners to learn and recognize the opportunities for collaboration that exist in the South.
As one of the important initiatives of the Forum on China-Africa Cooperation, the CADFund has been committed to serving China-Africa cooperation with a market-oriented approach, giving full play to its financial advantages and guiding role as a platform in the 13 years since its establishment.
The CADFund introduced Chinese enterprises as well as Chinese capital, technologies, production capacity and management experience which help create employment opportunities, increase tax revenues and enhance productive capacities of Africa.
The fourth case of this series focuses on a truck assembly plant in South Africa, jointly invested by FAW China and the CADFund, which has brought beneficial changes to the local economy and social life.
South Africa: FAW Production Base Project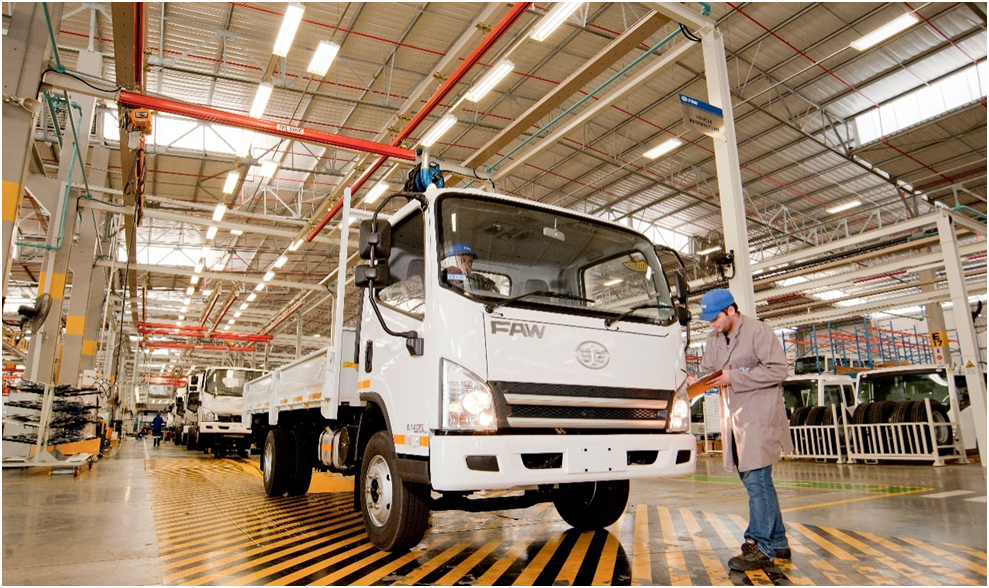 Overview
Africa's car market has a huge potential for further expansion. South Africa, as the continent's largest automobile market, boasts a mature, stable business environment and favorable investment policies. First Automotive Works (FAW) South Africa Co., Ltd. was incorporated in South Africa in 1994 to import and sell trucks and accessories and replacement parts. In 2012, FAW China and the CADFund fully realized South Africa's demand for cooperation on capacity development and development of manufacturing and their support for the establishment of the automobile industry in South Africa and jointly invested in the construction of a truck assembly plant with an annual output of 5,000 trucks in the Coega Industrial Development Zone in Nelson Mandela Bay. The plant covers 87,000 square meters and includes an assembly workshop, a modification workshop and a training centre.
In addition, the project team also cooperates with FAW Africa's sales division and sales agency network for localization and sustainable development in Africa. On 10 July 2014, the construction of the FAW South Africa Coega factory was officially completed. Then-President of South Africa Mr. Jacob Zuma was invited to attend the inauguration ceremony and cut the ribbon. The project was highly praised by the government of South Africa and the local community and was considered "a model of cooperation between China and South Africa".
Operation
Employment of local personnel, standardized management
The FAW South Africa company employs 240 local employees in production, sales and service; only 3 managers,1technician and 2 salesmen, are dispatched from China. Thus, 97 per cent of the positions have been localized. In its operation, the company abides by local labour and tax laws and meets the requirements of environmental protection and safe production in South Africa. Such efforts have been highly praised by the Government of South Africa and the people, and the company has been rated as a benchmark enterprise in the industrial park by the Coega Industrial Development Zone.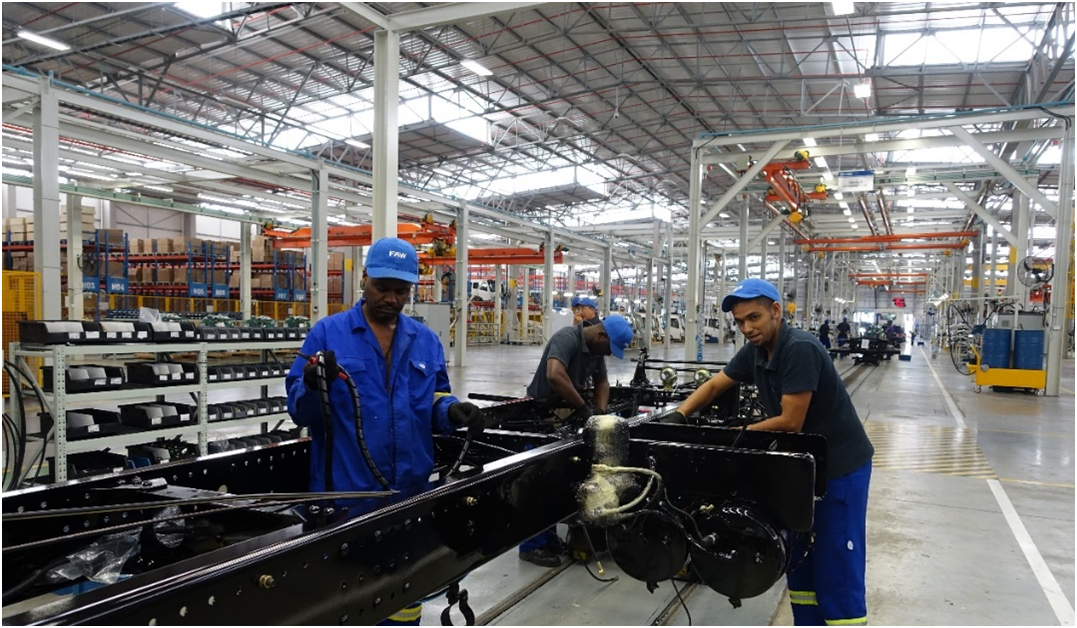 "Introduced from China, made in South Africa"
The Coega truck assembly plant takes the FAW independent technology as the core and local laws and regulations as the standard and makes full use of local human resources to produce high-quality products that meet the needs of the local market and the requirements of the users. Seventy percent of the products sold by the company are manufactured locally, thus driving the development of related upstream and downstream industries such as those relating to raw-material supply and vehicle modification.
Integrated sales and service network, upgraded service guarantee system
The FAW South Africa project has integrated with the FAW marketing and service network in South Africa that consists of 4 self-run 4S stores, 23 franchise 3S stores and 3 franchise service providers, covering major cities and key transportation routes in South Africa and radiating to neighbouring countries such as Mozambique, Zambia and Zimbabwe. It can provide guaranteed service to customers 24 hours a day, 7 days a week, which minimizes the downtime and reassures users.
Impact
Social benefits
In 2014, FAW South Africa established an auto finance department and issued special loans to help South Africa's small and medium-sized enterprises. To date, it has issued car loans to more than 400 small and medium-sized enterprises, contributing to social development.
Also in 2014, FAW South Africa Co., Ltd. established the FAW South Africa Corporate Social Responsibility Fund to regularly invest part of the company's income in the Fund every year to support local education. To date, it has donated to six primary schools in the Coega Industrial Development Zone and has invited students to visit the factory from time to time. It has also actively participated in social welfare activities such as natural disaster relief, which promoted the harmonious relationship between the enterprise and the local community.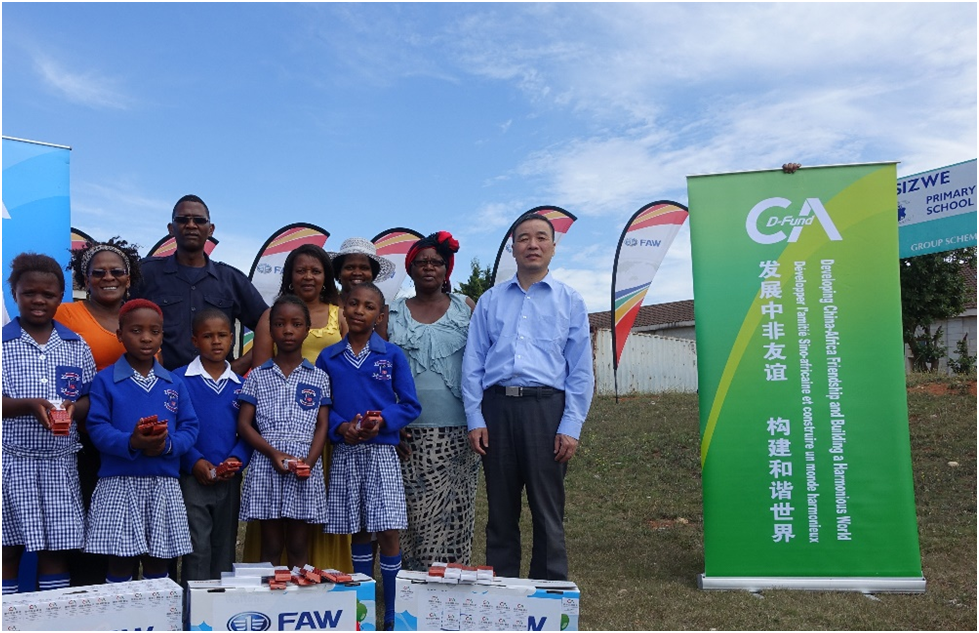 Economic benefits
The FAW South Africa Coega factory has a total area of 87,000 square meters and a construction area of 30,000 square meters, with a single-shift capacity of 5,000 vehicles and a two-shift capacity of 10,000 vehicles. Since the project became operational, FAW South Africa has paid a total of $5.2 million in taxes to the local government. In 2015, for the first time, it exported products produced in its Coega factory to Kenya and the United Republic of Tanzania. At present, its exports have reached Malawi, Mozambique, Zambia, Zimbabwe and other neighbouring countries as well as Australia and New Zealand. By the end of 2019, FAW South Africa had sold 9,241 vehicles and the South African assembly plant had produced 5,410 vehicles.
Capacity development
In addition to employing local people, FAW South Africa takes as its important responsibility the local employees' skills training and career development. It provides more than 5,000 hours of training for both internal and external personnel each year and high-quality talent for the local automobile industry, thus further improving the local employment rate and the sustainable development of the South African automobile industry.
Replicability

As an emerging market with potential, the African market enjoys the greatest advantage of growing consumer demand and increasing production capacity. The success of the FAW South Africa project fully demonstrates the broad prospect for China's automobile industry, which can take root in Africa and grow together with the African automobile industry. This project model can be replicated in countries with a potential automobile market, basic conditions and policy support for the establishment of a production base, certain industrial infrastructure and a relatively stable business environment.
(Source: United Nations Office for South-South Cooperation, China-Africa Development Fund)