China and Afghanistan issued a joint statement to deepen cooperation concerning the Belt and Road Initiative (BRI) in May 2016.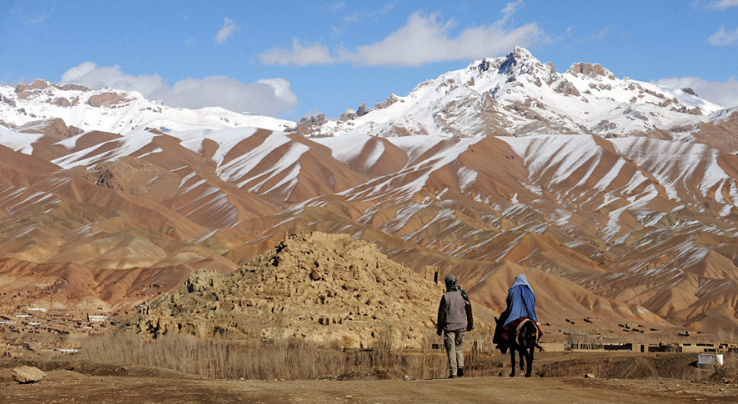 Afghanistan, landlocked multiethnic country located in the heart of south-central Asia. Lying along important trade routes connecting southern and eastern Asia to Europe and the Middle East, Afghanistan has long been a prize sought by empire builders, and for millennia great armies have attempted to subdue it, leaving traces of their efforts in great monuments now fallen to ruin. The country's forbidding landscape of deserts and mountains has laid many imperial ambitions to rest, as has the tireless resistance of its fiercely independent peoples—so independent that the country has failed to coalesce into a nation but has instead long endured as a patchwork of contending ethnic factions and ever-shifting alliances.

The capital of Afghanistan is its largest city, Kabul.
-- Land
Afghanistan is completely landlocked—the nearest coast lies along the Arabian Sea, about 300 miles (480 km) to the south—and, because of both its isolation and its volatile political history, it remains one of the most poorly surveyed areas of the world. It is bounded to the east and south by Pakistan(including those areas of Kashmir administered by Pakistan but claimed by India), to the west by Iran, and to the north by the Central Asian states of Turkmenistan, Uzbekistan, and Tajikistan. It also has a short border with Xinjiang, China, at the end of the long, narrow Vākhān (Wakhan Corridor), in the extreme northeast. Its overall area is roughly twice that of Norway.

-- Climate
In general, Afghanistan has extremely cold winters and hot summers, typical of a semiarid steppe climate. There are many regional variations, however. While the mountain regions of the northeast have a subarctic climate with dry, cold winters, the mountainous areas on the border of Pakistan are influenced by the Indian monsoons, usually coming between July and September and bringing maritime tropical air masses with humidity and rains. In addition, strong winds blow almost daily in the southwest during the summer. Local variation is also produced by differences in elevation. The weather in winter and early spring is strongly influenced by cold air masses from the north and the Atlantic low from the northwest; these two air masses bring snowfall and severe cold in the highlands and rain in the lower elevations.

-- People
No national census has been conducted in Afghanistan since a partial count in 1979, and years of war and population dislocation have made an accurate ethnic count impossible. Current population estimates are therefore rough approximations, which show that Pashtuns comprise about two-fifths of the population. The two largest Pashtuntribal groups are the Durrānīand Ghilzay. Tajiksare likely to account for some one-fourth of Afghans, while Ḥazāraand Uzbekseach constituteearly one-tenth. ChaharAimaks, Turkmen, and other ethnic groups each account for small portions of the population.
-- Languages
The people of Afghanistan form a complex mosaic of ethnic and linguistic groups. Pashtoand Persian (Dari), both Indo-European languages, are the official languages of the country. More than two-fifths of the population speak Pashto, the language of the Pashtuns, while about half speak some dialectof Persian.

-- Economy
When Afghanistan began to plan the development of its economy with Soviet assistance in the mid-1950s, it lacked not only the necessary social organization and institutions for modern economic activities but also the managerial and technical skills. The country was at a much lower stage of economic development than most of its neighbours. Between 1956 and 1979, however, the country's economic growth was guided by several five-year and seven-year plans and was aided by extensive foreign assistance. This aid, primarily from the Soviet Union and the United States, accounted for more than four-fifths of government investment and development expenditures during that period. Roads, dams, power plants, and factories were constructed, irrigation projects carried out, and education broadened. When foreign assistance declined in the 1970s, the sale of natural gas to the Soviet Union, albeit at a bargain price, more than compensated in financing budget expenditures.

Agriculture and forestry
Agriculture and animal husbandry, mainly consisting of subsistence farming and pastoral nomadism, are, in more normal times, the most important elements of the gross domestic product (GDP), accounting for nearly half of its total value. Afghanistan is essentially a pastoral country. Only about one-eighth of the total land area is arable, and only about half of the arable acreage is cultivated annually. Much of the arable area consists of fallow cultivated land or steppes and mountains that serve as pastureland. Since much of the land is arid or semiarid, about half of the cultivated land is irrigated. Traditionally, as much as 85 percent of the population drew its livelihood from a rural economy, mostly as farmers.
The greater profits found in the illegal market for drugs and the smuggling trade have cut heavily into traditional agriculture and food production. Afghanistan now has to import much of its foodstuffs from Pakistan. Prior to the period when poppy growing became widespread, most cultivated land was planted with cereals, with wheat as the chief crop. Other food grains customarily planted were corn (maize), rice, and barley. Cotton was also important, both for a domestic textile industry—when such an industry existed—and for export. Fruits and nuts have also been important export items.
Animal husbandry produces meat and dairy products for local consumption; skins, especially those of the famous karakul, and wool (both for export and for domestic carpet weaving) are also important products. Livestock includes sheep, cattle, goats, donkeys, horses, camels, buffalo, and mules. About two-thirds of the annual milk production is from cows, the rest from sheep and goats. In addition to the country's many other difficulties, a drought in 2000 killed off some four-fifths of the livestock in southern Afghanistan and crippled the remaining food production.
Forests cover about 3 percent of the total land area and are found mainly in the eastern part of the country and on the southern slopes of the Hindu Kush. Woodlands in the east consist mainly of conifers, providing timber for the building industry as well as some wild nuts for export. Other trees, especially oaks, are used as fuel. North of the Hindu Kush are pistachio trees, the nuts of which are a traditional export. Deforestation has become a major problem, as much of the country's timber has been harvested for fuel—because of shortages brought on by 20 years of warfare—and for illegal export.
Resources and power
Extensive surveys have revealed the existence of a number of minerals of economic importance. One significant discovery was the country's natural gas deposits, with large reserves near Sheberghān near the Turkmenistan border, about 75 miles (120 km) west of Mazār-e Sharīf. The Khvājeh Gūgerdak and Yatīm Tāq fields were major producers, with storage and refining facilities. Until the 1990s, pipelines delivered natural gas to Uzbekistan and Tajikistan and to a thermal power plant and chemical fertilizer plant in Mazār-e Sharīf. Petroleum resources, on the other hand, have proved to be insignificant. Many coal deposits have been found in the northern slopes of the Hindu Kush. Major coal fields are at Maʿdan-e Karkar and Eshposhteh, between Kabul and Mazār-e Sharīf, and Qalʿeh-ye Sarkārī, southwest of Mazār-e Sharīf. In general, however, Afghanistan's energy resources, including its large reserves of natural gas, remain untapped, and fuel shortages are chronic.
Afghanistan has been known for some time to bear other minerals as well: high-grade iron ore has been discovered at Ḥājjī Gak, northwest of Kabul; copper has been mined at ʿAynak, near Kabul; and uranium has been identified in the mountains near Khvājah Rawāsh, east of Kabul. Other known deposits include those of copper, lead, and zinc near Kondoz; beryllium in Khāṣ Konaṛ; chrome ore in the Lowgar River valley near Herāt; and the semiprecious stone lapis lazuli in Badakhshān, in addition to deposits of rock salt, beryl, barite, fluorspar, bauxite, lithium, tantalum, gold, silver, asbestos, mica, and sulfur. Taxation of mined and traded lapis lazuli and emeralds helped finance anti-Taliban forces during the civil war.
The development of Central Asian natural gas and oil resources has sparked international interest in Afghanistan as a route for pipelines to markets in South Asia and beyond. A planned pipeline, whose construction in Afghanistan began in 2018, would carry gas and, later, oil from Turkmenistan over some 1,100 miles (1,750 km), mostly through Afghanistan, to Multan in Pakistan for transshipment. The pipeline could become a major source of income for Afghanistan and also offer a source of training and employment to Afghans.
Afghanistan is potentially rich in hydroelectric resources. However, the seasonal flow of the country's many streams and waterfalls—torrential in spring, when the snow melts in the mountains, but negligible in summer—necessitates the costly construction of dams and reservoirs in remote areas. The country's negligible demand for electricity renders such projects unprofitable except near large cities or industrial centres. The potential of hydroelectricity has been tapped substantially only in the Kabul-Jalālābād region.
Manufacturing
In peaceful times, manufacturing is based mainly on agricultural and pastoral raw materials. Most important is the cotton textile industry. The country also produces rayon and acetate fibres. Other manufactured products are cement, sugar, vegetable oil, furniture, soap, shoes, and woolen textiles. A nitrogenous fertilizer plant, based on natural gas, has been constructed in Mazār-e Sharīf, and phosphate fertilizers are also produced. A cement factory continues to operate in Pol-e Khomrī. In addition, a number of traditional handicrafts are practiced in Afghanistan, including carpet weaving, which in times past accounted for a fair proportion of the country's export earnings.
Finance
The largest bank in the country, the Bank of Afghanistan, became the centre of the formal banking system. It formerly played an important role in determining and implementing the country's financial policies. Traditionally, private money traders provide nearly all the services of a commercial bank. The currency, the afghani, underwent rampant inflation beginning in the 1990s, and as a result precious metals and gems became a common form of currency for large transactions. A sanction imposed in 1999 by the United Nations (UN) against the Taliban government froze government accounts abroad and closed the few branches of Afghan banks outside the country. Despite these measures, the Taliban and their al-Qaeda supporters (al-Qaeda is an Islamic extremist group that found refuge under the Taliban) removed large quantities of bullion and currency from Afghanistan during the U.S. military campaign of 2001, virtually bankrupting the country.
Afghanistan's financial sector expanded rapidly in the decade that followed the fall of the Taliban. However, the banking system has been plagued by corruption and fraud.
Trade
Total annual imports have customarily exceeded exports. Prior to the fall of Afghanistan's communist regime, roughly two-thirds of exports went to the former Soviet republics to the north. The Soviet state was also the leading source of imports. The principal export, natural gas, flowed mostly to the Soviet Union until pipelines were closed. Traditional exports are dried fruits, nuts, carpets, wool, and karakul pelts, and imports include vehicles, petroleum products, sugar, textiles, processed animal and vegetable oils, and tea. Since the mid-1990s Pakistan and Iran have served as the major suppliers of consumer goods. Other major trade partners include India, China, and the United Arab Emirates.
Services
Until the collapse of the communist regime in 1992, the service sector—including public administration, military spending, and retail sales - accounted for less than one-fourth of GDP. Although there have been no official statistics since then, government spending fell sharply over the decade, and, like other segments of the economy, retail sales suffered from the country's general economic malaise. Purchasing power in the post-Taliban period began to recover with the revival of government programs that were funded mainly by international donors.
-- Cultural Life
Afghanistan has a rich cultural heritage covering more than 5,000 years and absorbing elements from many cultures, especially those of Iran (Persia) and India. Even elements of Greek culture can be traced to the Hellenistic Age. This blend of cultures flourished at many points in Afghan history, notably under the reign of the Mughal emperors, when Kabul and Herāt emerged as important centres of art and learning. Largely because of almost complete isolation from the outside world, however, little in art, literature, or architecture was produced between the 16th and early 20th centuries. Because most Afghans live outside the cities, their mode of living can be described as peasant tribal. Kinship is the basis of social life and determines the patriarchal character of the community.
(The above information from Internet)