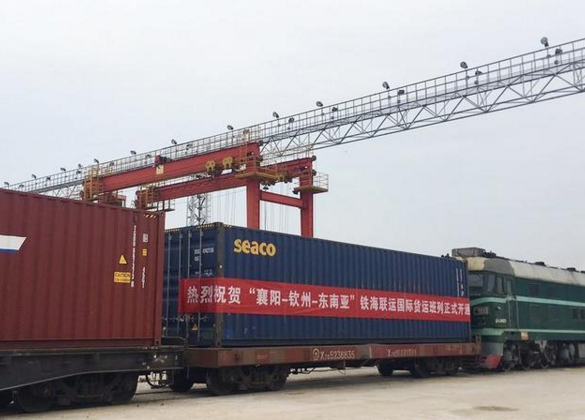 Photo shows the launch of a sea-rail freight train in the Xiangyang Area of China (Hubei) Pilot Free Trade Zone.
BEIJING, Sept. 3 (Xinhua) -- Xiangyang Area of China (Hubei) Pilot Free Trade Zone (FTZ) has seen 7,150 market entities as of June this year, an increase of 348.8 percent over that before the launch of the area, thanks to its in-depth reforms for the FTZ construction.
Launched three years ago, the area has introduced 128 projects with a total investment of 73.1 billion yuan (about 10.69 billion U.S. dollars) by June this year, including 9 foreign-invested projects with a total investment of 1.198 billion yuan.
Since its launch, Xiangyang Area has striven to expand its cargo transport channels to the outside world and launched nine freight train routes including some sea-rail freight train routes. The Xiangyang-Europe freight trains have shipped 5,128 TEUs with a cargo value of 340 million U.S. dollars since the regular running of the routes.
Meanwhile, Xiangyang Area has also actively improved the customs clearance efficiency. Compared to that before the area establishment, time for the import and export customs clearance has been cut by 41.53 percent and 75.95 percent, respectively.
Data show that in the past three years, Xiangyang Bonded Logistics Center has handled a total of 7,192 import and export declarations, and the value of import and export cargos under supervision is equivalent to 6.137 billion yuan.
"In 2019, value of the import and export cargos under supervision exceeded 3 billion yuan for the first time, while the annual value before the area establishment was only 200 million yuan," said an official of the center. (Edited by Hu Pingchao with Xinhua Silk Road, hupingchao@xinhua.org)