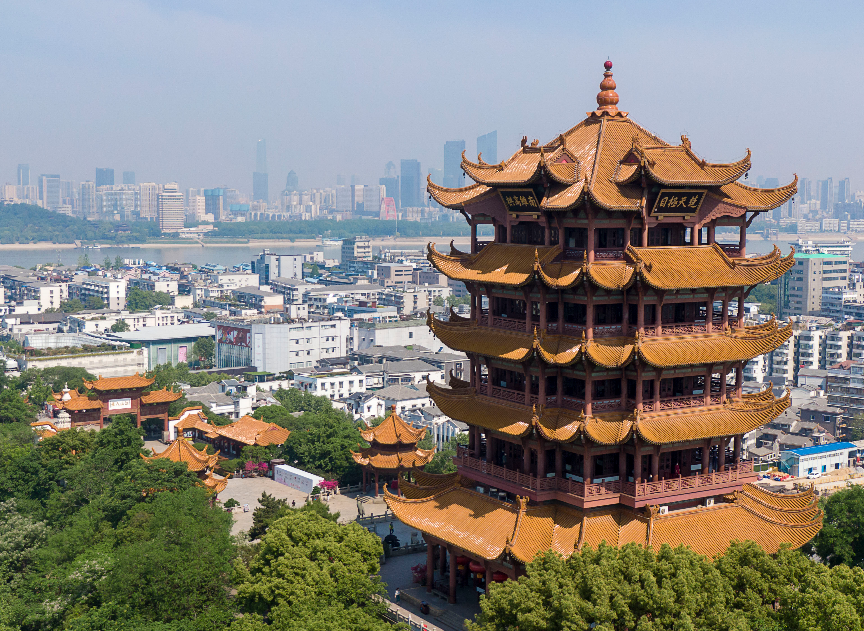 Aerial photo taken on April 29, 2020 shows the Yellow Crane Tower, or Huanghelou, a landmark in Wuhan, central China's Hubei Province.
BEIJING, Aug. 20 (Xinhua) -- China's cultural and tourism sector has entered the fast lane for recovery since the Ministry of Culture and Tourism announced the resumption of trans-provincial travel nationwide one month ago.
According to a report released by China's largest online travel agency Trip.com Group, formerly known as Ctrip, in the month since the resumption of trans-provincial travel, the number of people booking the travel products has doubled, and travel agencies nationwide have quickly resumed work.
The resumption rate of its stores across the country has reached more than 70 percent, which has doubled compared to that before the resumption of trans-provincial travel, said Trip.com Group.
Data from some local governments have also echoed the travel recovery conclusion of the report.
For example, from August 8 to 17, Shennongjia in central China's Hubei province, a World Heritage site, had a total of 1 million reservations. Jingzhou City in the province has received more than 1.5 million tourists since its orderly reopening of tourist attractions on March 21. After August 8, the number of tourists in various tourist attractions in the city has nearly doubled, according to a press conference held by the provincial government on Tuesday.
It is worth noting that favorable policies to boost the cultural and tourism industry are still being released intensively.
The National Development and Reform Commission (NDRC), China's top economic planner, has recently issued a circular to continuously promote a cut in the scenic ticket prices.
At present, provinces of Hubei, Shandong, Shanxi, and Inner Mongolia Autonomous Region have successively introduced preferential policies for scenic spots. Some regions have also proposed that they will increase support for cultural and tourism enterprises through methods such as financial rewards, tax reductions and exemptions, and refunds. (Edited by Hu Pingchao with Xinhua Silk Road, hupingchao@xinhua.org)