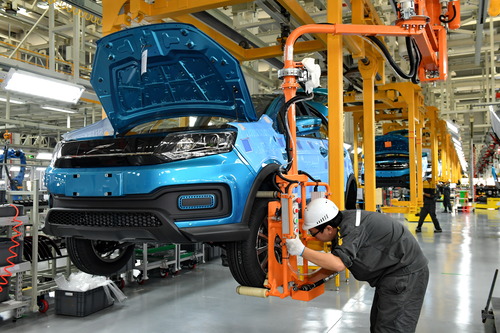 Workers are seen at an assembly line of Yudo new-energy vehicles (NEVs) in southeast China's Fujian Province, Dec. 20, 2017. (Xinhua/Zhang Guojun)
BEIJING, Aug. 5 (Xinhua) -- The local authorities in southeast China's Fujian Province recently issued a three-year action plan on the development of new energy vehicles (NEV), energy storage batteries, and new energy equipment, reported Fujian Daily Tuesday.
The action plan proposes that by 2022, Fujian's output value of the whole NEV industry chain will exceed 280 billion yuan, and a total of 560,000 NEVs will be popularized and applied in the province, double that of 2019.
Specifically, Fujian will promote the construction of local automobile industry parks and support NEV manufactures to expand its production capacity.
In terms of production of the core parts for the NEVs, the province is expected to achieve an automotive battery production capacity of over 150 GWh by 2022, while developing high-performance drive motors and electronic control systems.
According to the action plan, priorities will also be given to upgrading the province's energy storage battery manufacturing and new energy equipment, such as encouraging the leading enterprises to produce new energy ships and construction machinery.
Fujian will increase the promotion and application of new energy vehicles in the public domain, which will cover scenic spots, administrative vehicles, and public transport sectors.
It is noted that Fujian pledges to support local enterprises in car battery leasing, battery recycling, battery industry chain, and charging equipment.
(Edited by Jiang Fiefan with Xinhua Silk Road, 346129473@qq.com)