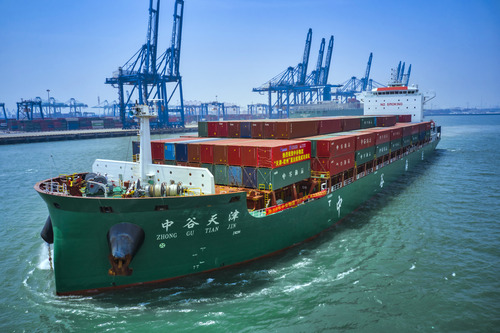 BEIJING, Aug. 4 (Xinhua) -- China will accelerate its pace of building Tianjin Municipality into the international shipping hub in the north, according to a document jointly released by the National Development and Reform Commission (NDRC) and Ministry of Transport (MOT) recently.
By 2025, Tianjin's role as the international shipping hub in the north of China will become more prominent. It will strive to be ranked the top 20 among international shipping centers, with the port cargo throughput reaching 560 million tonnes and container throughput coming to 22 million twenty-foot equivalent units (TEUs). Significant progress will be achieved in the development of multimodal transportation, construction of smart ports and green ports, port business environment and shipping service levels.
By 2035, Tianjin is expected to become the international shipping hub in the north in a comprehensive way, with its global ranking further improved. Tianjin Port will become a world-class port, with the container throughput striving to reach 30 million TEUs.
According to the document, efforts should be made to promote the coordinated development of ports in Tianjin Municipality and Hebei Province, optimize the functional layout of Tianjin Port, scientifically delimit the boundary between port and city, strengthen the construction of collection and distribution system, and improve the service capacity of multimodal transportation. (Edited by Zhang Yuan with Xinhua Silk Road, zhangyuan11@xinhua.org)