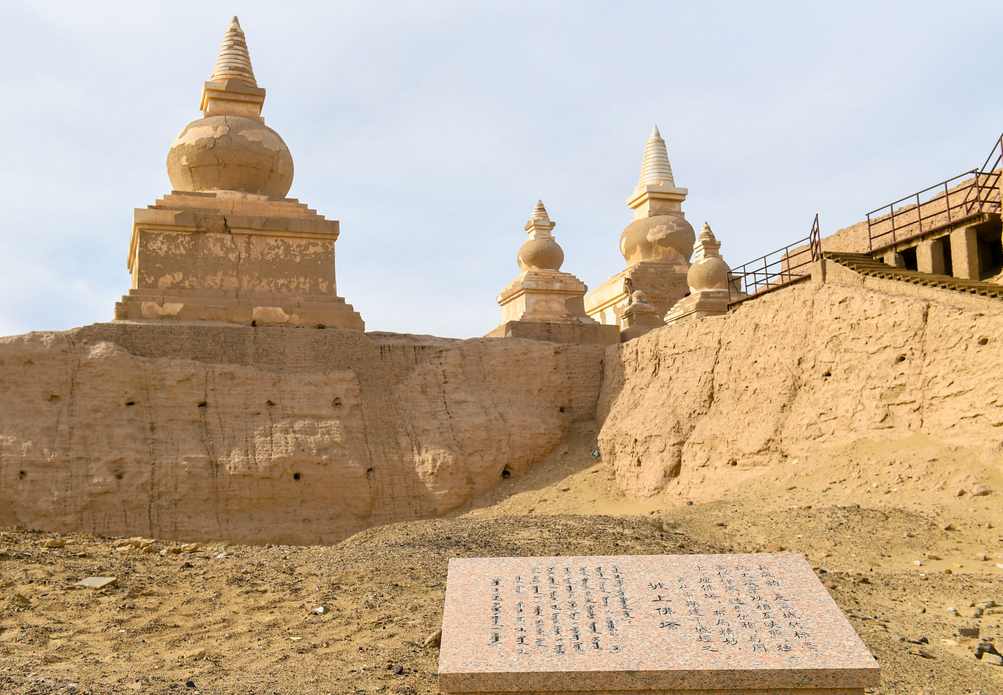 Photo taken on Oct. 18, 2019 shows a view of Heicheng relic site in Ejina Banner, north China's Inner Mongolia Autonomous Region. Heicheng relic site is a well preserved ancient city on the Silk Road that linked China with central and western Asia. (Xinhua/Peng Yuan)
In China's Han Dynasty around 140 B.C., Zhang Qian, a royal emissary, left Chang'an, capital of the Han Dynasty. He traveled westward on a mission of peace and opened an overland route linking the East and the West, a daring undertaking which came to be known as Zhang Qian's journey to the Western regions. Centuries later, in the years of Tang, Song and Yuan Dynasties, such silk routes, both over land and at sea, boomed. Great adventurers, including Du Huan of China, Marco Polo of Italy and ibn Batutah of Morocco, left their footprints along these ancient routes. In the early 15th century, Zheng He, the famous Chinese navigator in the Ming Dynasty, made seven voyages to the Western Seas, a feat which still is remembered today. These pioneers won their place in history not as conquerors with warships, guns or swords. Rather, they are remembered as friendly emissaries leading camel caravans and sailing treasure-loaded ships. Generation after generation, the silk routes travelers have built a bridge for peace and East-West cooperation.
The ancient silk routes were not for trade only, they boosted flow of knowledge as well. Through these routes, Chinese silk, porcelain, lacquerwork and ironware were shipped to the West, while pepper, flax, spices, grape and pomegranate entered China. Through these routes, Buddhism, Islam and Arab astronomy, calendar and medicine found their way to China, while China's four great inventions and silkworm breeding spread to other parts of the world. More importantly, the exchange of goods and know-how spurred new ideas. For example, Buddhism originated in India, blossomed in China and was enriched in Southeast Asia. Confucianism, which was born in China, gained appreciation by European thinkers such as Leibniz and Voltaire. Herein lies the appeal of mutual learning.
The ancient silk routes witnessed the bustling scenes of visits and trade over land and ships calling at ports. Along these major arteries of interaction, capital, technology and people flowed freely, and goods, resources and benefits were widely shared. The ancient prosperous cities of Alma-Ata, Samarkand and Chang'an and ports of Sur and Guangzhou thrived, so did the Roman Empire as well as Parthia and Kushan Kingdoms. The Han and Tang Dynasties of China entered the golden age. The ancient silk routes brought prosperity to these regions and boosted their development.
-- Countries along the Silk Road Economic Belt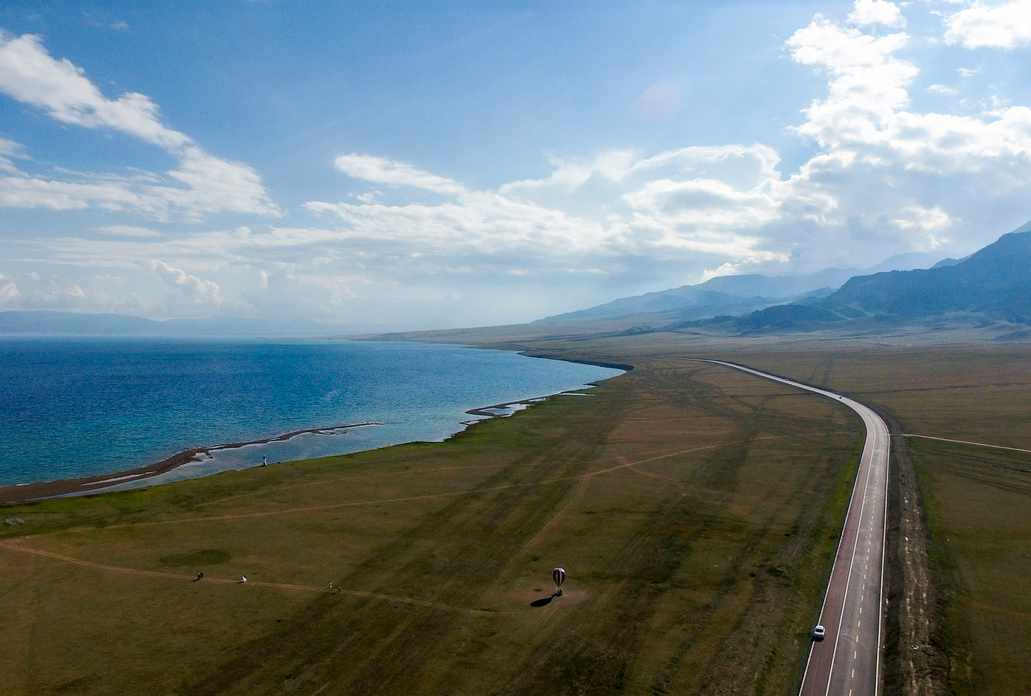 Aerial photo taken on July 5, 2018 shows the Lianyungang-Horgos expressway along the Sayram Lake, northwest China's Xinjiang Uygur Autonomous Region. As an important link of the Silk Road Economic Belt, Xinjiang is speeding up the development of transportation and logistics to connect east and west. (Xinhua/Zhao Ge)
Countries in Central Asia such as Kazakhstan, Kyrgyzstan, Tajikistan, Uzbekistan, and Turkmenistan are just across the border from China. They are closely connected with China's economy.
Middle-eastern countries such as Iran, Iraq, Jordan, Syria, Saudi Arabia, and Turkey mainly trade oil and gas. They look forward to developing other industries and agriculture through cooperation with China.
Other countries on the boundary between Europe and Central Asia such as Azerbaijan, Georgia, Armenia, Ukraine, Belarus, and Moldova are expected to achieve economic integration.
Russia is an important part of the Silk Road Economic Belt. It has a close relationship with Central Asian countries, the countries of the Caucasus region, and Western Asian countries.
If the issues in Afghanistan can be resolved peacefully, then the development of Afghanistan, Pakistan, and India will also be promoted by the Belt and Road Initiative.