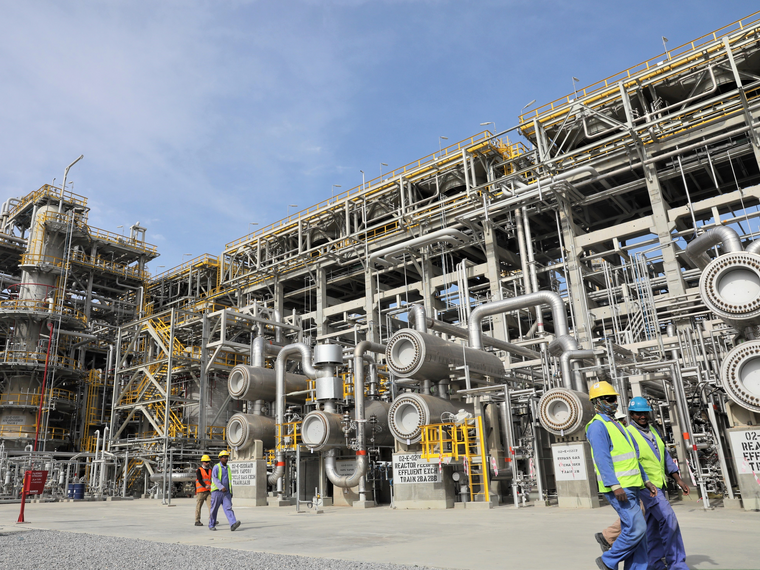 Workers are seen at the construction site of Al-Zour New Refinery Project (NRP) in Ahmadi Governorate, Kuwait, on Dec. 12, 2019. Located in the southern desert of Kuwait, the Al-Zour New Refinery Project has been hailed as a model for the "mutually beneficial win-win cooperation" between Kuwait and China under the Belt and Road Initiative (BRI). (Xinhua/Nie Yunpeng)
-- About the Belt and Road Initiative
The Belt and Road Initiative (BRI) -- China's proposal to build a Silk Road Economic Belt and a 21st Century Maritime Silk Road in cooperation with related countries -- was unveiled in September and October 2013.
The initiative focuses on promoting policy coordination, connectivity of infrastructure and facilities, unimpeded trade, financial integration, and closer people-to-people ties through extensive consultation, joint contribution and shared benefits, with the goal of bringing benefits to all.
The initiative covers primarily East Asia, Southeast Asia, South Asia, West Asia, Central Asia, and Central and Eastern Europe. It reflects a convergence of interests and an increasing need for regional and global cooperation.
-- About BRI cooperation priorities
Following are the priority areas of cooperation under the Belt and Road Initiative.
Policy Coordination
Policy coordination is key to effective implementation of the Belt and Road Initiative.
In order to expand shared interests, enhance mutual trust, and build consensus on further cooperation, it is important for the countries along the Belt and Road to seek common ground while shelving differences, and increase inter-governmental communication on macroeconomic policy and development strategies so as to better align their national priorities with regional planning needs and common goals.
Connectivity of Infrastructure
While respect for each other's sovereignty and security concerns is indispensable, a closer alignment of infrastructure development planning and technical standards is called for between the countries along the Belt and Road.
Such a move would facilitate the construction of key international arteries, so as to build an infrastructure network that not only links all the subregions in Asia, but also extends out to Europe and Africa.
Unimpeded Trade
Removing barriers to trade with the aim of unleashing the potential for greater cooperation between countries involved is a major task in building the Belt and Road.
Major measures the countries and regions along the Belt and Road could take include: creating mechanisms to facilitate free trade and the removal of investment and trade barriers; opening free trade areas to create a business-friendly environment at the regional and national levels and unleash the potential for cooperation; and improving the transparency of technical measures and reducing non-tariff barriers in order to liberalize and facilitate trade.
Financial Integration
Financial integration is an important support for the Belt and Road Initiative. Key measures the countries concerned could take to foster financial integration include: increasing financial cooperation to ensure currency stability, build a sound framework for investment, financing, and credit services in Asia, and expand the availability of public financial products; and strengthening the role of the Asian Infrastructure Investment Bank, the BRICS New Development Bank, the Silk Road Fund, and sovereign wealth funds of the countries concerned in funding key projects.
Closer People-to-People Ties
People-to-people ties provide an anchor for the Belt and Road Initiative. Without such an anchor, the strategic goal of connecting diverse cultures and different countries would be out of reach. Increased interaction and mutual understanding, greater awareness of potential benefits from expanded cooperation, and more participation are therefore indispensable to the initiative's success.
To this end, the countries along the Belt and Road are encouraged to step up friendly cooperation in the Silk Road tradition by promoting extensive cultural, academic, scientific, media, and other people-to-people exchanges, including those between youths, women, and volunteer groups, so as to consolidate public support for bilateral and multilateral cooperation.
-- Key takeaways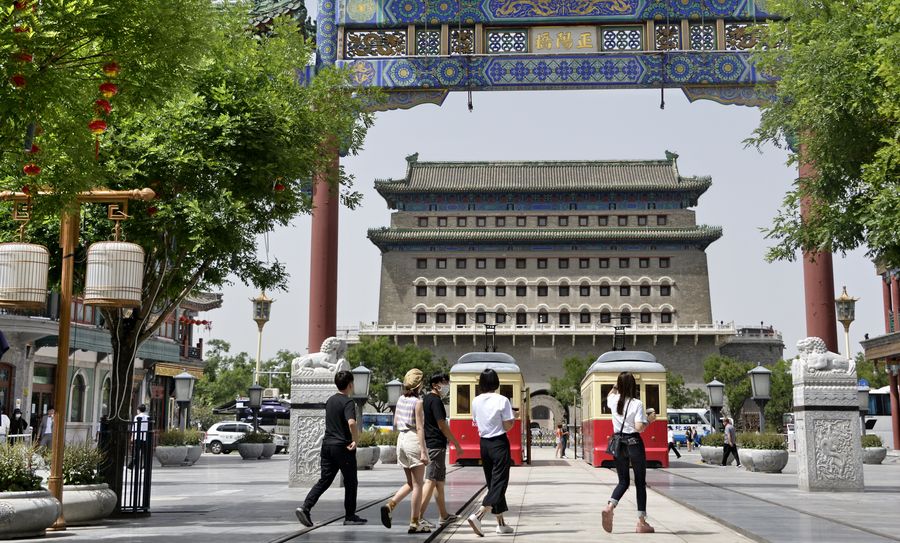 People visit Qianmen Street in Beijing, capital of China, June 3, 2020. (Xinhua/Li Xin)

After years of unremitting efforts, the BRI has seen plentiful achievements made. Here are the key takeaways on its progress in the past five years from information released by the Belt and Road Portal, the official website of the BRI:
Increasing int'l influence

The international influence of the BRI has kept increasing since 2013. In 2018 alone, over 60 nations including New Zealand, Austria, Kazakhstan and South Africa joined the initiative.
By the end of last year, China had signed 170 inter-governmental cooperation documents with 122 nations and 29 international organizations.
Many countries and regions have actively dovetailed the BRI with their own development programs such as the EU's Junker Investment Plan, the Russia-led Eurasian Economic Union, Mongolia's Prairie Road and Kazakhstan's Nurly Zhol (Bright Path).
Booming infrastructure construction

With increasing collaboration on ports, railways, highways, electricity, aviation and communications, infrastructure development along the Belt and Road has been effectively upgraded, with better-than-expected achievements.
Ports are better connected than other transportation facilities between China and other nations along the Belt and Road. China maintains first place worldwide in maritime connectivity, with shipping routes connecting its ports with over 200 nations and 600 major ports.
As for railway connections, the cumulative number of trips made by China-Europe freight trains exceeded 12,000 in 2018, with annual shipments reaching 16 billion U.S. dollars, compared with only 17 trips and less than 600 million dollars in 2011.
More trade, more jobs

Total trade between China and other Belt and Road countries amounted to 6.47 trillion dollars in the 2013-2018 period. More than 80 overseas economic and trade cooperation zones were built, and more than 244,000 jobs created for locals.
During the period, China's outbound direct investment in other Belt and Road countries exceeded 80 billion dollars.
Improved financing

Development and policy-oriented financing has revved up support for the Belt and Road development in the last five years, with a rapid expansion of multilateral and bilateral financial and investment platforms.
Countries along the Belt and Road accounted for over 60 percent of all members of the Asian Infrastructure Investment Bank, a multilateral development bank headquartered in Beijing, as of December 2018.
The Silk Road Fund, to which China contributed 40 billion dollars initially and an additional 100 billion yuan (about 15 billion U.S. dollars) later to support the Belt and Road projects, has signed contracts to provide financing for 19 projects.
People-to-people exchanges

By the end of April 2018, 1,023 pairs of sister cities had been formed between China and 61 countries along the Belt and Road, accounting for over 40 percent of the total number of sister cities China had with other countries.
In 2017, tourists made around 60 million trips between China and other Belt and Road countries, with the number of tourists from and to China rising 2.6 times and 2.3 times from 2012, respectively, making it a new source of growth for global tourism.