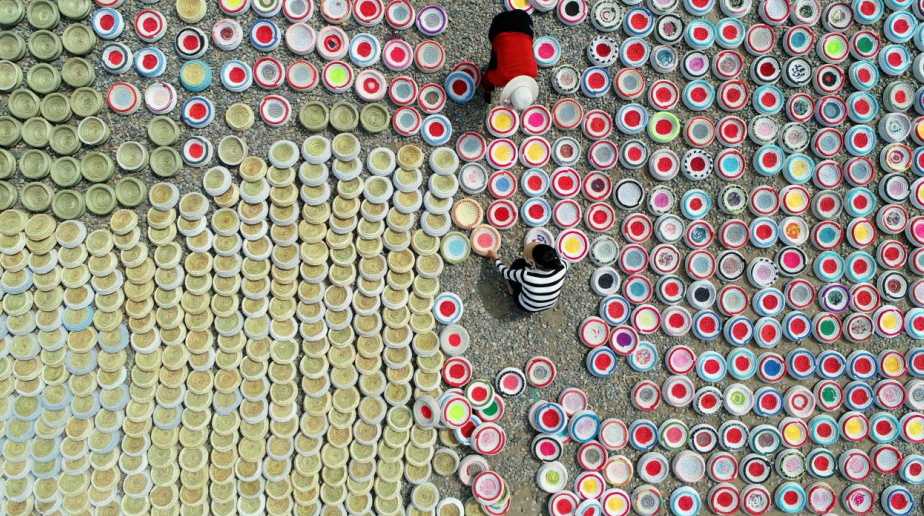 Photo shows local straw products made by farmers in Tancheng County, Linyi City of east China's Shandong Province.
BEIJING, June 27 (Xinhua) -- As a large agricultural county in China with rich crop straw resources, Tancheng County, located in Linyi City of east China's Shandong Province, has established many cooperatives in recent years, making straw crafts and selling them to the whole country and over 20 countries and regions in Europe, North America and Southeast Asia.
During the wheat harvest season, farmers in Tancheng City dry and sterilize harvested wheat and other crop straws, and weave them into crafts including pet nests, which not only avoids the environmental pollution caused by burning straws, but also increases farmers' income.
The straw weaving in Tancheng County has a history of over 100 years. By establishing diversified sales channels, the straw crafts, which are environment-friendly, have become popular among consumers at home and abroad, said Wang Chunliang, head of a local handcraft cooperative.
Since this spring, an average of tens of thousands of straw crafts have been sold online every month, Wang added.
At present, more than 10,000 farmers in 20 villages in Tancheng County are engaged in straw weaving and processing industry, compiling and exporting more than 2 million pieces of straw crafts by using more than 40 million kilograms of crop straws annually.
(Edited by Gao Jingyan with Xinhua Silk Road, gaojingyan@xinhua.org)