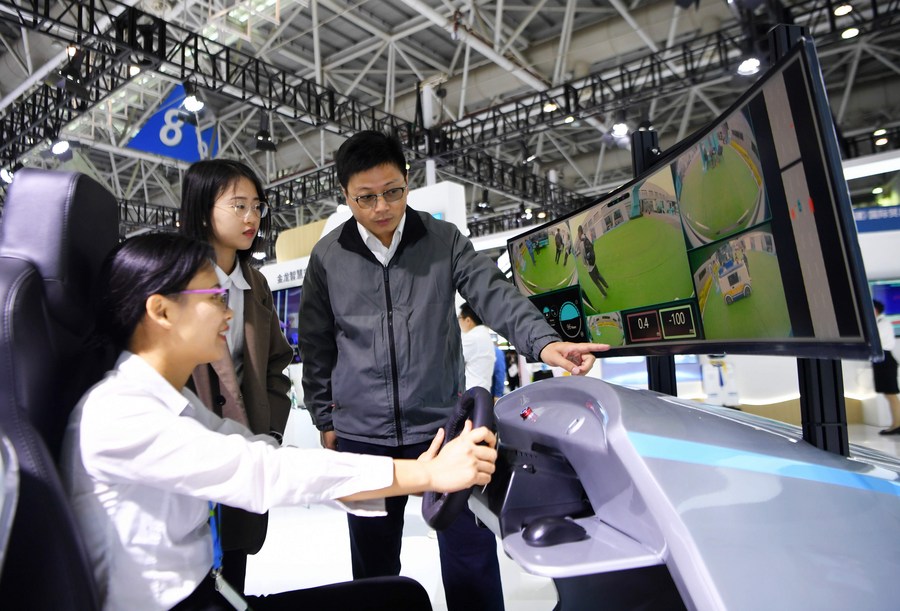 A visitor tries to remote control a vehicle supported by King Long 5G technology at an exhibition of the 6th Digital China Summit in Fuzhou, southeast China's Fujian Province, April 26, 2023. (Xinhua/Wei Peiquan)
BEIJING, June 1 (Xinhua) -- As of the end of April this year, the number of 5G mobile phone users of China's three telecom giants -- China Mobile, China Telecom, China Unicom -- has reached 1.213 billion, the latest data showed.
The rapidly growing 5G users reflects the vigorous development of China's digital economy. China now sees steadily expanded digital economy, integration of digital technology and real economy as well as innovation of digital companies to add momentum to the high-quality development.
-- Boosting 5G coverage
As of the end of April this year, the number of 5G mobile phone users of China Mobile, China Telecom and China Unicom amounted to 699 million, 287 million, and 227 million respectively.
Currently, more than 70 percent of users of the three telecom giants are using 5G services. For the 4G development, more than 80 percent of mobile phone users have signed up for 4G services. It is expected that the number of 5G mobile phone users will increase steadily in the future, said Peng Jian, Deputy Director of the Institute of Radio Management of China Center for Information Industry Development (CCID).
"The speed, stability and fluency of 5G network are better than 4G network, especially in crowded places such as shopping malls, stadiums, scenic spots and high-speed rail, which will drive more 4G users to turn to to 5G network," said Zhao Gang, Director of the CIO Manage Industrial Research Institute.
An important reason for the increasing penetration of 5G in the personal application market and consumer sectors is the gradual increase in the coverage of 5G networks and terminals, and the steady reduction of 5G expenses.
By the end of April, the total number of 5G base stations in the country had reached 2.73 million, accounting for 24.5 percent of its tally of mobile base stations, according to the Ministry of Industry and Information Technology (MIIT).
At present, the 5G application in the personal application and consumer sector is mainly focused on video including short videos, ultra-high-definition videos, live streaming, cloud video games, etc. Virtual Reality (VR), Augmented Reality (AR) and Mixed Reality (MR) applications, metaverse and AI-generated contents are also emerging applications backed by 5G in personal applications and the consumer sector, Zhao added.
"China's 5G personal applications have made positive progress in terms of user scale, terminal types, and application innovation, covering many fields such as ultra-high-definition video, Extended Reality (XR), and artificial intelligence," said Peng Jian.
-- In-depth advancement of 5G applications
The industry has always been the focus of promoting 5G applications. 5G applications currently cover 52 sectors in the national economy, and the number of application cases for the "dual-gigabit" network of 5G and gigabit optical networks exceeds 50,000 nationwide, data from MIIT showed.
From the spatial dimension, the MIIT has recently approved the launch of 5G air-to-ground communication trials, which is expected to expand 5G applications from the ground to the sky and promote the development of new industries such as Aviation Internet. In terms of application, 5G has already achieved mass application in manufacturing, mining, ports, energy and other industries, effectively empowering high-quality development of industries, Peng analyzed.
"In key industries with more mobile data, wide connectivity, and low latency characteristics, 5G applications are applied more deeply including complex robot applications based on 5G network connections, remote control of engineering machinery, automatic inspection of power grids and remote surgical robots," said Zhao.
Inspur Communication Technology Co., Ltd. has built a 5G fully-connected factory for high-end server motherboard manufacturing for its Suzhou plant based on cloud-network integration infrastructure. The production line adjustment cycle has been reduced from 14 days to 4 days, and the overall delivery efficiency of the production line has been improved by 20 percent.
China Unicom has built a total of 19,000 large-scale 5G application projects and implemented more than 9,000 "5G+ industrial Internet" projects, promoting the digital transformation of traditional industries, said Liu Liehong, chairman of China Unicom.
In the first quarter, the MIIT released 218 industrial Internet pilot demonstration projects, including 5G factories, industrial Internet parks, and public service platforms, which boosted the digital transformation of factories and industrial parks, said Zhao Zhiguo, Chief Engineer of the MIIT.
-- Robust growth in digital economy
The rapid growth of 5G users and the accelerated coverage of 5G networks have solidified the foundation for the development of the digital economy.
Peng Jian stated that China's 5G, gigabit optical network and satellite internet are in the middle of rapid development, which will benefit the upstream and downstream enterprises of the digital economy industry and lay a more solid foundation for empowering various industries.
The scale of China's digital economy grew to 50.2 trillion yuan (about 7.09 trillion U.S. dollars) in 2022, with year-on-year nominal growth of 10.3 percent and ranking second globally, according to a report on the development of China's digital industry.
The share of the digital economy in the country's GDP rose to 41.5 percent, the report said.
Among them, the electronic information manufacturing industry achieved the revenue of 15.4 trillion yuan, up 5.5 percent year on year. Software business revenue reached 10.81 trillion yuan, up 11.2 percent while the sale of core industry of industrial Internet exceeded 1.2 trillion yuan, up 15.5 percent year on year.
In the meantime, the application and promotion of digital technology in the field of agriculture and rural affairs have spawned new tools, new platforms, and new models.
The integration of digital technology and industries also offer tremendous opportunities for various sectors.
Zhao Gang analyzed that digital technologies can not only empower and improve the production efficiency of traditional industries, but also generate new business forms and new markets such as smart home, self-driving cars and digital health care.
The integration of data and reality also releases a huge market space for digital technology products such as computer hardware and software, and provides a test scene for new technologies and products such as artificial intelligence and metaverse.
(Edited by Tian Shenyoujia with Xinhua Silk Road, tianshenyoga0524@163.com)