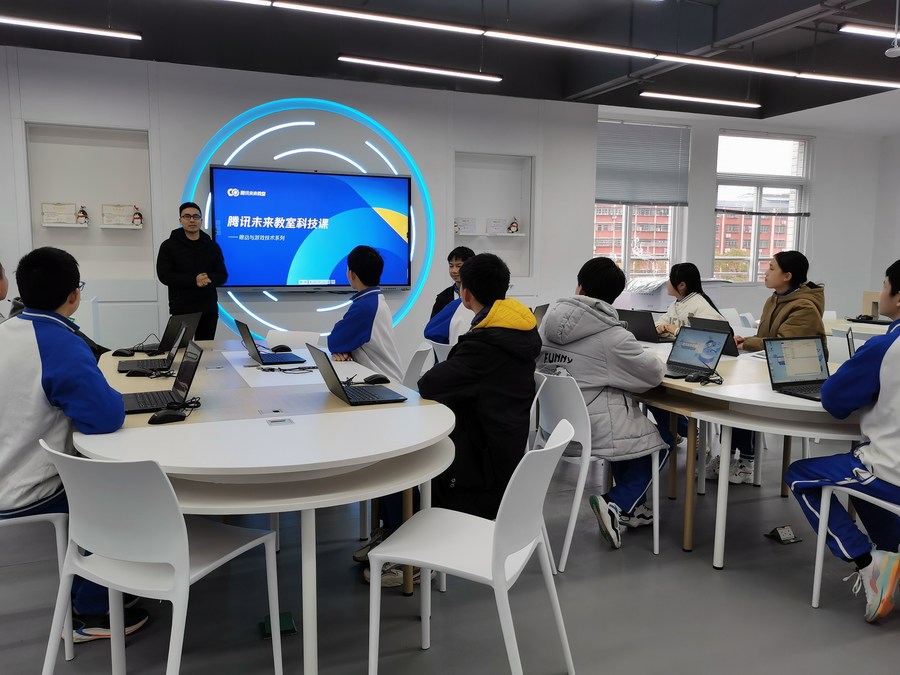 Students of the Ruyuan Ethnic Experimental School have a class in a "Future Classroom" in Shaoguan, south China's Guangdong Province, Feb. 9, 2023. (Xinhua/Wang Feng)

BEIJING, March 23 (Xinhua) -- China's education sector has become more intelligent with extensive application of digital technologies such as artificial intelligence (AI), big data, and cloud computing in school and home education scenarios, chinanews.com reported.

Based on advanced technologies, schools have launched smart campus platforms, digital training bases, and digital education campaigns.
For example, Guangzhou Information Technology Vocational School in south China's Guangdong Province uses AI technology to collect teaching and learning behavior in classrooms and establish behavioral quantitative models. Big data-based analysis is conducted later to provide refined teaching guidance for teachers.
Meanwhile, the school edits teaching videos into several clips according to knowledge points, and generates real-time subtitles based on voice processing technology to form digital lesson resources that can be shared with students.
In home learning, intelligent devices connect children with peers to study together despite distance. For instance, thanks to an intelligent English learning solutions empowered by big data, AI and mobile internet, Zhou Mingfei, a pupil in Beijing, can indulge in a 30-minute reading of English books with companions from all over the world at weekends.
China has attached great importance to education digitization in recent years. The country initiated a national smart education public service platform on March 28, 2022. As of February 10, 2023, the platform has received more than 6.7 billion online views and over one billion visits from 200-odd countries and regions, showed latest data from the Ministry of Education.
China will scale up efforts to implement education digitization strategy and improve the national smart education platform, according to a plan for building a digital China rolled out last month. (Edited by Su Dan with Xinhua Silk Road, sudan@xinhua.org)