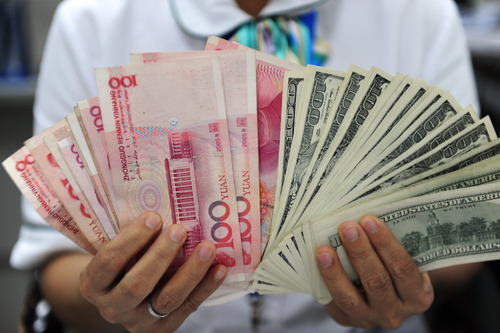 BEIJING, Feb. 9 (Xinhua) -- China's foreign exchange (forex) reserves rose for four consecutive months to 3.1845 trillion U.S. dollars by the end of January, reported Xinhua Finance earlier this week.
The reported citing data released by the State Administration of Foreign Exchange (SAFE) on Tuesday said that the figure represented an increase of 56.8 billion U.S. dollars or 1.82 percent from the comparable data by the end of last year.
Wen Bin, chief economist with China Minsheng Banking Corporation Limited, thought that exchange rate and asset price changes were the main factors determining the January forex reserve rise.
In January, the U.S. Dollar Index (DXY), a measure of the value of the U.S. dollar relative to a basket of foreign currencies, declined 1.4 percentage points to 102.1 while non-U.S. dollar currencies appreciated in general.
At a time when complicated external environment and increasing potential stagnation risks around the world still indicated relatively large volatility of global financial market, China's continued economic recovery and enhanced domestic growth engines guaranteed the basic stability of forex reserves, according to Wen.
Pang Ming, greater China chief economist with Jones Lang LaSalle IP, Inc. (JLL) noted that China's positive long-term economic prospects helped boost the stability and appreciation of Renminbi, steady growth in cross-border capital inflows, foreign trade residence, forex market stability and basically balanced forex supply and demand at home, all of which pillared up the stability in the size of forex reserves.
Alongside China's notably recovering economic growth momentum, international financial market and global investors are broadly confident in the long-lasting, steady, safe, and long-term investment opportunities in China, Pang added. (Edited by Duan Jing with Xinhua Silk Road, duanjing@xinhua.org)