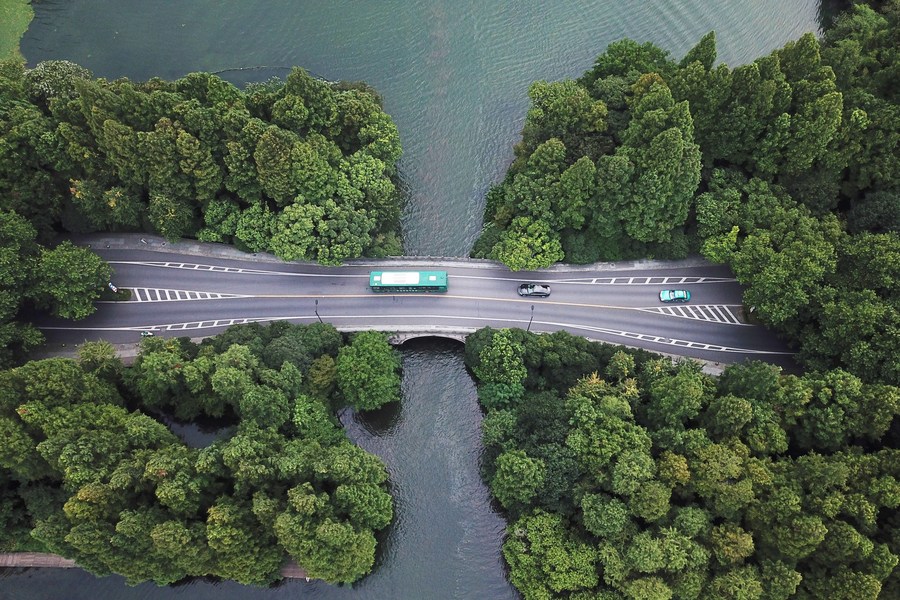 Aerial photo taken on July 30, 2018 shows an electric bus running on the Yanggongdi Causeway in the West Lake scenic area in Hangzhou, capital of east China's Zhejiang Province. (Xinhua/Huang Zongzhi)
BEIJING, Feb. 6 (Xinhua) -- China's central bank will support the launch of a national green exchange for global green investors in Beijing, said Yi Gang, governor of the People's Bank of China (PBOC).
With the green exchange in place, the carbon emitters will afford the social cost by trading carbon quotas in the exchange. Meanwhile, information disclosure will be further enhanced to promote green transition with pubic supervision, according to Yi.
Yi added that the introduction of green exchange will also help to stabilize the green premium, which is the additional cost of choosing a clean technology over one that emits more greenhouse gases. The green finance and green technologies are expected to reduce the green premium in the future to make the green energy accessible to enterprises and households.
(Edited by Li Shimeng with Xinhua Silk Road, lishimeng@xinhua.org)