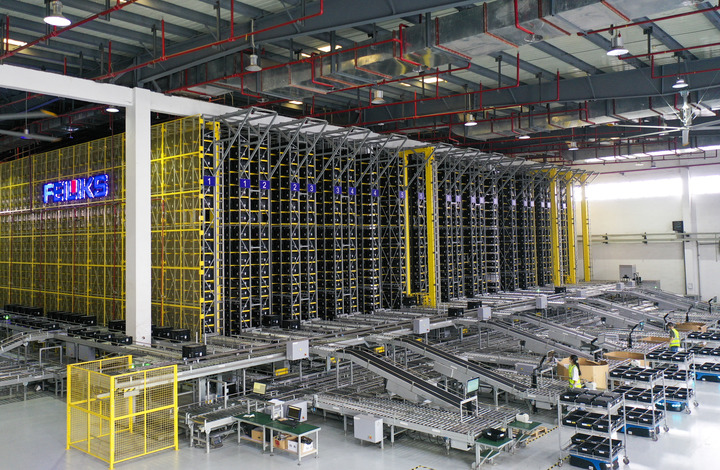 This aerial photo taken on Aug. 24, 2021 shows industrial robots transporting goods at an intelligent warehouse in southwest China's Chongqing. (Xinhua/Liu Chan)
BEIJING, Nov. 30 (Xinhua) -- Chinese central bank, the People's Bank of China (PBOC), decided to cut the required reserve ratio (RRR) for banks, excluding those already enjoying a five percent RRR, by 0.25 percentage point from December 5, 2022 to grant greater support to the real economy.
Industry experts regarded the move as one of the measures to stabilize the economy, saying it would spur the source of long-term and stable capital for financial institutions to gear their support up to the real economy.
-- Keeping liquidity reasonably fluid
The RRR cut announced by PBOC on November 25 did not come beyond market expectations.
Wen Bin, chief economist with China Minsheng Banking Co., Ltd. said the PBOC's timely RRR cut was a choice made out of recent market liquidity change, the epidemic and economic situations and efforts to implement the package of economic growth-stabilizing policies for the fourth quarter.
Dong Ximiao, chief researcher with Merchants Union Consumer Finance Co., Ltd. believed that it was necessary and imperative to lower the RRR as the lukewarm October social financing and loan growths and slack residential loan increase hinted potentially insufficient effective financing and economic growth challenges.
With the RRR reduction to unlock around 500 billion yuan of capital for banks, ample and fluid market liquidity and lower capital costs were expectable in China before the end of 2022, which would help raise the credit supply capacity of financial institutions, held Wen.
-- Creating conditions for lower financing costs for the real economy
By saving around 5.6 billion yuan of capital costs per year, the RRR cut broadened the leeway for financial institutions to further reduce the financing costs for the real economy entities and maintain their profits at reasonable levels, said Wen.
In the third quarter of 2022, the net interest margin (NIM) of commercial banks in China already fell to new lows since the recorded history and went down in general about 13 basis points (bp) from the comparable period of 2021, according to Wen.
Taking into consideration of market consensus that effects of the lowered loan prime rates (LPR) on outstanding real estate lending may intensively emerge in 2023, banking institutions are expected to bear pressures in maintaining profitability.
Under such circumstances, efforts to guide banks' borrowing costs down are in factual need.
Dong said that after the RRR cut, banks could be more motivated to reduce the spread added to the LPRs, the market-based benchmark lending rates in China in loan supply and LPRs, in particular those for terms longer than five years to be unveiled later on December 20, are likely to edge down.
All of these will contribute to cheering up residential housing consumption and facilitating the steady and healthy development of the real estate market, deemed Dong.
-- Supporting the economy with prudent monetary policy
In future, China's prudent monetary policy was anticipated to continue as the RRR cut did not mean a shift of the monetary policy, said Dong, adding that the 0.25-percentage point of RRR cut instead of a 0.50-percentage point cut reflected the appropriateness of the liquidity-boosting move amid the relatively fluid market liquidity at present.
As a regulator means taken by the PBOC to adjust liquidity, the RRR cut did not point to explicit loosening of the monetary policy, held Liang Si, researcher with the research institute of Bank of China.
Industry experts expected China's financial regulators to further guide mid- and long-term capital into key fields to press ahead with improvement in economic quality and reasonable economic growth in future.
Recently, Chinese central bank and China Banking and Insurance Regulatory Commission have jointly convened a work meeting to arrange implementation of financial measures and policies for supporting and stabilizing the economy.
According to the meeting, the function of special loans for equipment renovation and fiscal subsidy to interest of certain special-purpose loans for businesses will be fully leveraged to foster the effective demand of manufacturing and service industries.
Greater supports to market participants such as small- and micro-sized enterprises, individual businesses and truck drivers were also stressed during the meeting together with active supports for deferring principal and interest payment for qualified inclusive loans of small- and micro-sized companies in a bid to benefit the real economy entities. (Edited by Duan Jing with Xinhua Silk Road, duanjing@xinhua.org)