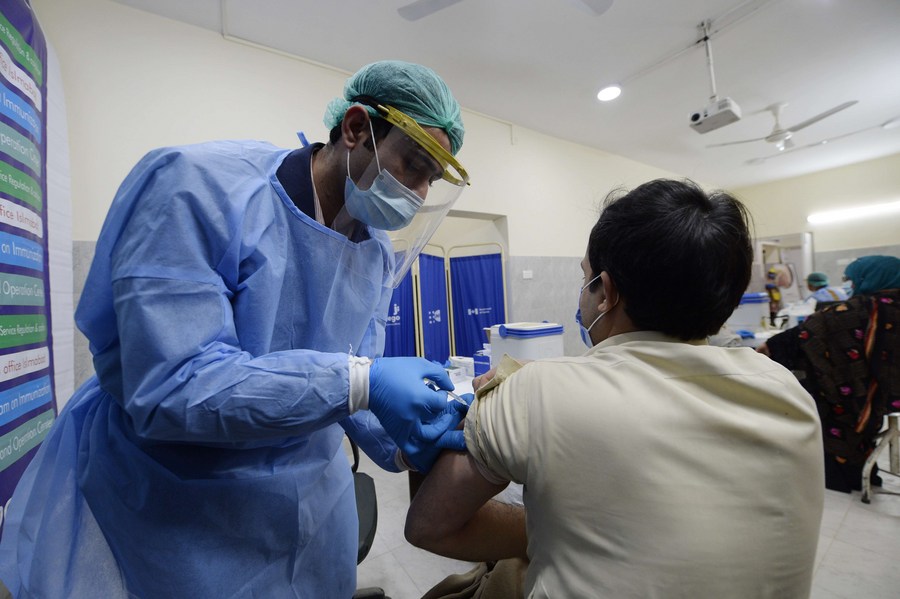 A medical worker receives a dose of COVID-19 vaccine at a hospital on the outskirts of Islamabad, capital of Pakistan, Feb. 4, 2021.(Xinhua/Ahmad Kamal)
ISLAMABAD, Sept. 26 (Xinhua) -- The Attock Mother and Children Hospital and Nursing College project, undertaken by China Civil Engineering Construction Corporation (CCECC) in Pakistan completed the topping of the main building Saturday, laying a solid foundation for the completion of the project.
The project is located in Attock City of Punjab Province, eastern Pakistan. The project content includes a main hospital building, an apartment building and six supporting buildings, with a total construction area of more than 30,000 square meters.
Wang Chaozhu, general manager of CCECC Pakistan branch, said at the capping ceremony that the hospital will be equipped with 200 beds after completion, which will provide local women and children with good medical conditions and greatly improve women's health, and play an important role in public health service.
During the construction period, Pakistani engineers learned a lot of valuable experience through cooperation with Chinese engineers, and the project shows the concrete results of the cooperation between the two countries under the friendship between China and Pakistan, said a local engineer during an interview.
(Edited by Bao Nuomin with Xinhua Silk Road, baonuomin@xinhua.org)