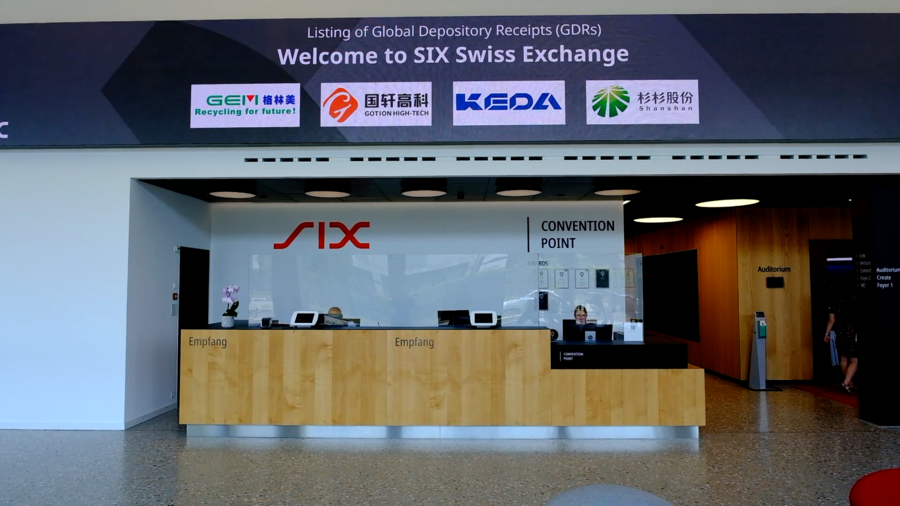 Photo taken on July 28, 2022, at SIX Swiss Exchange shows a bell ringing ceremony for the listing of Global Depository Receipts (GDRs) of four Chinese companies. (Xinhua/Jiang Xuelan)
BEIJING, Sept. 20 (Xinhua) -- China's Zhejiang Hangke Technology will list global depository receipts (GDR) on Zurich-based SIX Swiss Exchange, according to its announcement released on Monday.
GDR is a bank certificate issued in more than one country for shares in a foreign company. GDRs are most commonly used when the issuer is raising capital in the local market as well as in the international markets, either through private placement or public stock offerings.
With this move, Hangke primarily aims to raise its brand awareness and influence in global major lithium-ion battery market. It also plans to strengthen technological innovation and improve its ability of research and development (R&D).
The company said it will set up R&D centers in countries with state-of-art battery technologies and recruit local staff to conduct R&D, to improve the company's overall strength by learning from the best.
Listing GDRs on the SIX Swiss Exchange has become a popular choice for Chinese companies since this year. Hangke represents the first company on the country's sci-tech innovation board (STAR market) to make the choice, while many firms on the country's A-share market have been successfully done so or are considering to do it.
Located in Hangzhou in east China's Zhejiang Province, Hangke is a leading provider of Li-ion cell post-processing systems and provides products for renowned enterprises such as Samsung SDI, LG Chem, Sony (Murakata), CATL and BYD.
The company said that its overseas sales soared 320 percent year on year to 205 million yuan (about 29.25 million U.S. dollars) in the first half of 2022. It has built a subsidiary in Germany to explore the European market.
(Edited by Li Shimeng with Xinhua Silk Road, lishimeng@xinhua.org)