BEIJING, Sept. 1 (Xinhua) -- The Smart China Expo 2022 was closed in southwest China's Chongqing Municipality last Wednesday, yielding fruitful results. With about 665 companies in the digital economy sector from 19 countries and regions participating online and offline, the expo witnessed the signing of 70 major investment projects, with the total contract value reaching 212.1 billion yuan (about 31 billion U.S. dollars).
China's digital economy has developed vigorously in recent years, driving the country's economic growth as a powerful engine. Meanwhile, the burgeoning digital cooperation between China and global partners offers tangible benefits in global economic development and digital governance.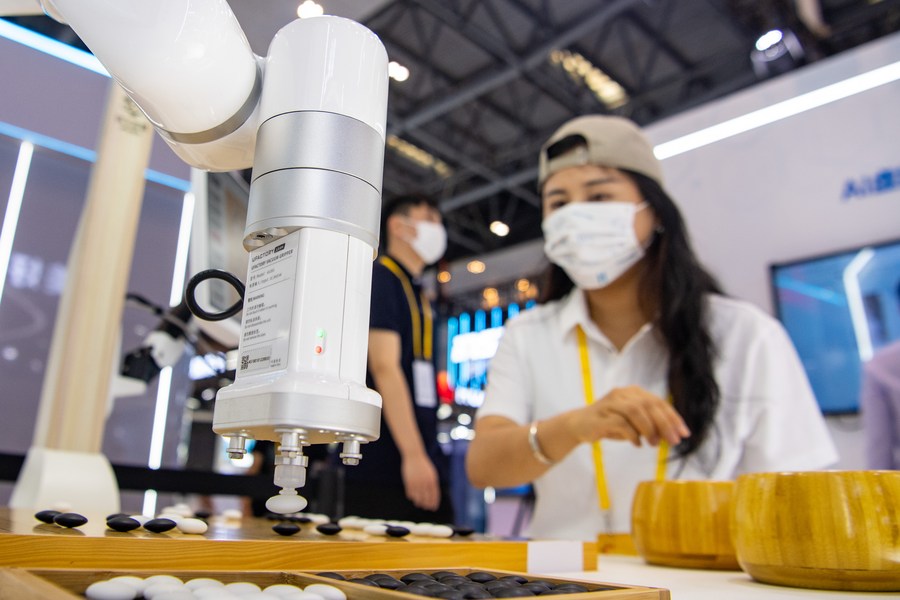 A woman plays "Go," or "Weiqi", with a robot during the Smart China Expo 2022 in southwest China's Chongqing Municipality, Aug. 22, 2022. (Xinhua/Tang Yi)
-- Enhanced foundation fueling digital economy development
Digital economy has become new driving force for China's economic development, according to a report released by the UNCATD, the UN trade and development body.
China's digital economy scale reached 7.1 trillion dollars, ranking second worldwide, according to a white paper on global digital economy released by the China Academy of Information and Communications Technology (CAICT).
The country's digital economy grew at an average rate of 15.9 percent from 2012 to 2021. During the period, the share of digital economy in its GDP expanded from 20.9 percent to 39.8 percent, representing an annual average increase of about 2.1 percentage points, according to the data from the white paper.
China's digital economy has been accelerated thanks to the enhanced foundation, such as the advanced digital infrastructure and improved innovation ability in scientific technology in the country.
"China's support to new infrastructure construction has fueled the growth of digital economy," said Tang Zhimin, director of China ASEAN Studies at the Bangkok-based Panyapiwat Institute of Management, adding that China channeled more investment in telecommunications, new technologies and computing infrastructure, which has promoted transition and upgrade of traditional infrastructure and propped up scientific research, technological development and product-making, thus driving the country's economy from both supply and demand sides.
In this regard, China has built the world largest and the most advanced network infrastructure, with all prefecture-level cities covered by optical fibre network as of the end of May, according to the Ministry of Industry and Information Technology (MIIT). Besides, the industrial internet has already been applied to 45 major categories of the national economy as of the end of June. Data released by the CAICT showed that there are currently more than 150 influential industrial Internet platforms in China, linking more than 78 million sets of industrial equipment and serving more than 1.6 million industrial enterprises.
Apart from the advancement in infrastructure, China has also made strides in scientific innovation, which underpins the flourishing digital economy.
A report published by Cyberspace Administration of China in July showed that China's digital technological innovation has been remarkably improved. The report said that over 30,000 international applications were filed under WIPO's Patent Cooperation Treaty (PCT) in 2021, accounting for about one third across the globe.
Emerging technologies such as artificial intelligence (AI), cloud computing, big data and quantum information ranked among the top in the world. China has led the world in terms of 5G technology, while the country has also stayed ahead of the curve in the field of high-performance computer, leading the latest TOP500 list in number of systems with 173 supercomputers, according to the report.
-- Shared dividends among global partners

China's progress in digital economy has not only made life easier for Chinese people, but also contributed to a shared future of the international community with digital dividends.
On the one hand, foreign enterprises enjoy more opportunities in exploring Chinese market as the country pushes forwards digitalization.
For example, Siemens set up the first Siemens Smart Infrastructure Digitalization Enablement Center in June in Shanghai, to seek more cooperation in the field of smart infrastructure. Multinational technology corporation ABB partnered with Huawei and China Telecom to upgrade the 5G smart grid solutions based on the three parties' cutting-edge telecommunication and distribution automation technologies. Focusing on the hybrid cloud platform, IBM is also working with Chinese enterprises to accelerate digital transformation.
Patrice Caine, Chairman and Chief Executive Officer of French defence and electronics firm Thales, said that the firm has benefited from the digitalized, network-based, intelligence-oriented trend in China, which was deepened by the development of the new-generation information and communication technology and the integration of new technologies with other industries.
China has also been active in seeking cooperation with the international community to share the opportunities brought by digital economy.
Chinese enterprises launched a pilot of 5G smart hospital in Thailand, making the service smarter and providing a better and more convenient medical service for local people. China also worked with Brazil, Ecuador to protect the Amazon rainforest ecosystem and the marine ecological environment with digital technologies. To realize efficient digital governance in Africa, China has initiated various forms of cooperation with Uganda and Mozambique, especially in talent training.
Digital economy is also an important part in the Belt and Road cooperation. The report by Cyberspace Administration of China said that a total of 17 countries have signed Memoranda of Understanding (MoU) with China on the construction of a digital belt and road while 23 countries have participated in the Silk Road E-commerce Initiative, thus advancing the competitiveness of digital trade.
China and African countries jointly launched the China-Africa Partnership Plan on Digital Innovation last year at the China-Africa Internet Development and Cooperation Forum, carrying out the digital innovation program.
Nizar Ben Neji, Minister of Tunisian Information and Communication Technologies, praised the highly-effective cooperation between China and Tunisia in the fields of information telecommunications and Beidou Navigation System, saying that it has been proved that strengthening cooperation with China in digital economy is an irresistible trend.
China and ASEAN countries together held conferences and forums on digital economy, promoting cooperation in the field. Gu Qingyang, an associate professor at the Lee Kuan Yew School of Public Policy of the National University of Singapore, said the ASEAN countries have strong demands of digital transformation, and thus have ample cooperation space with China in digital economy.
Apart from the bilateral, multilateral digital cooperation, China has also provided open platforms on digital economy, such as the World Internet Conference (WIC), World 5G Convention, and World Artificial Intelligence Conference. The country has also participated in establishing international rules and standards, including proposing the global initiatives on data security and cyberspace and joining the Digital Economy Partnership Agreement (DEPA).
By practicing the commitment of building open, equal, non-discriminate digital business environment, China has always contributed wisdom and approach to global digital governance, helping countries enjoy shared benefits brought by digital economy.
(Edited by Li Shimeng with Xinhua Silk Road, lishimeng@xinhua.org)