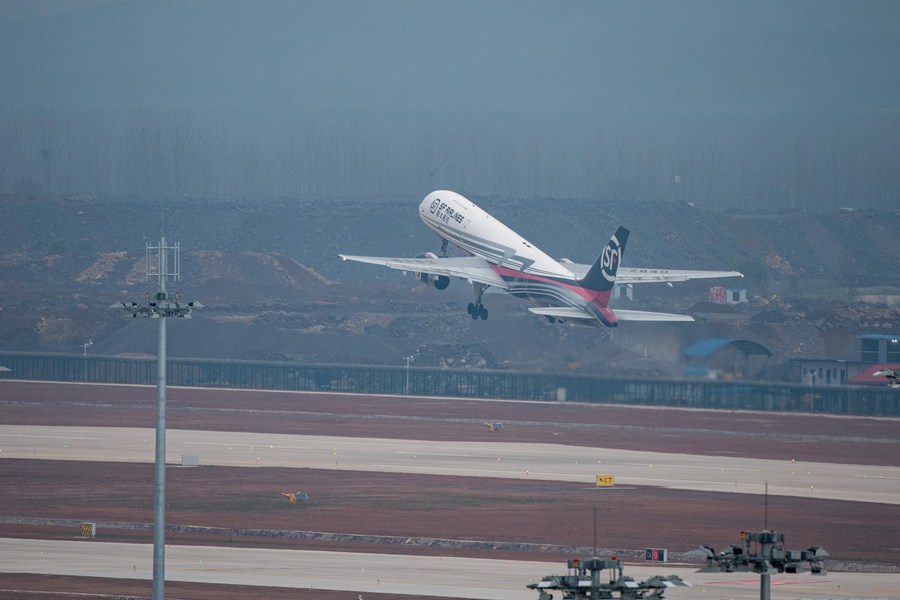 An air freighter flies over the Ezhou Huahu Airport in Ezhou, central China's Hubei Province, March 19, 2022. (Xinhua/Xiao Yijiu)
BEIJING, July 1 (Xinhua) -- The signing ceremony for the delivery of the acquisition of Italian helicopter company Fama by Chinese private company Duofu International Holding Group Co., Ltd. (Duofu Group) was held online in Milan, Beijing, and Hangzhou on June 28, reported China Securities Journal quoting Duofu Group.
The aviation arm of Duofu Group is committed to the development of the whole industrial chain of general aviation, including industry strategy research, investment and financing mergers & acquisitions (M&A) and cooperation, production and research and development (R&D) of helicopters, EVTOL (Electric Vertical Takeoff and Landing) and engines, construction and operation of airports, etc.
It is learned that Fama is an advanced manufacturer of light helicopters, with customers in more than 10 countries around the world. The core products of the company are Kiss series multi-purpose light single-engine and twin-engine helicopters and turboshaft engines, which are developed by the company itself.
After the acquisition, the aviation arm of Duofu Group will continue to expand the existing capacity of helicopter products, and set up a European helicopter and engine design and development center to further develop products such as turboshaft engines, electric helicopters, twin-engine helicopters of 4-5 seats, EVTOL and unmanned aerial vehicle (UAV) products on the basis of the original product line.
In the future, the aviation arm of Duofu Group will also set up an R&D center in China and establish complete helicopter production lines and engine production lines.
(Edited by Zhang Yao, Gu Shanshan with Xinhua Silk Road, gushanshan.1987@163.com)