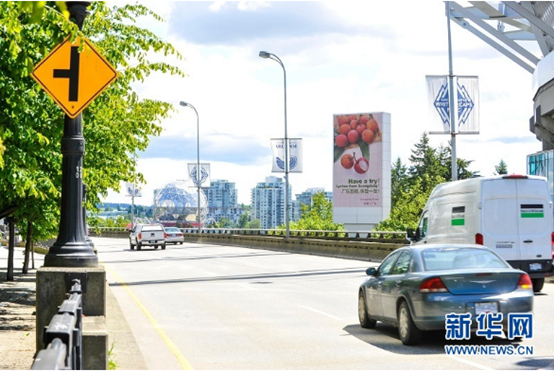 A billboard advertising Guangdong lychees is seen in Vancouver, Canada. (Xinhuanet.com)
BEIJING, May 26 (Xinhua) -- Maoming city, in southern China's Guangdong Province, has exported 1279.2 tonnes of local specialty lychees so far in 2022 with a total value 30.673 million yuan, according to local Customs.
The lychees are exported to many countries and regions including the United Arab Emirates, Malaysia, Indonesia, the Philippines, Singapore, the Netherlands and Canada, , reported Chinanews.com Wednesday.
In this year, the local Customs has continued to support the lychee producers expand global market especially the Belt and Road countries and the member countries of the Regional Comprehensive Economic Partnership (RCEP). As of Tuesday, Maoming has exported 537 tonnes of fresh lychees with a total value of 11.608 million yuan to RCEP member countries.
With a long history of lychee cultivation, Maoming is the world's largest lychee production base and one out of every five lychees in the world comes from Maoming.
In 2021, the output value of the whole industrial chain of Maoming lychee exceeded 10 billion yuan, which has become an important industry for rural revitalization in Maoming.
This year, the total output of lychee in Maoming is expected to reach 547,700 tonnes, accounting for about 43 percent of the province's total lychee output.
(Edited by Gao Jingyan with Xinhua Silk Road, gaojingyan@xinhua.org)