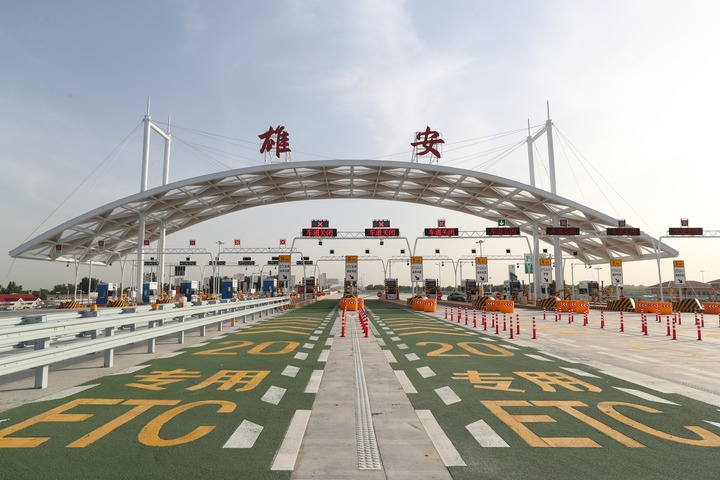 Photo taken on May 25, 2021 shows the Xiong'an toll station of Beijing-Xiong'an expressway in north China's Hebei Province. (Photo by Fan Liangui/Xinhua)
BEIJING, May 23 (Xinhua) -- The construction on the Belt and Road (B&R) industrial park project has recently started construction in the Comprehensive Bonded Zone of Shijiazhuang City, the capital of north China's Hebei Province, aiming to promote international production capacity cooperation, achieve a higher level of opening-up in China (Hebei) Pilot Free Trade Zone (FTZ), Shijiazhuang Daily reported on Saturday.
Involving a total investment of 275 million yuan, the construction of the project includes sub-projects such as the construction of an international logistics and storage center, a biomedical research and development center, and a high-tech industrial base in the comprehensive bonded zone. The first phase of the project is expected to be put into operation in 2023.
The project contractor has reached cooperation agreements with Russia, Pakistan and other countries and regions, and will provide services including logistics warehousing, product gathering and distribution, and processing. At the same time, the industrial park will also build a innovative drug research, development, production and service base, attracting medicine projects from home and abroad.
Since the beginning of this year, Shijiazhuang Comprehensive Bonded Zone has been committed to promoting the high-quality development of industries such as international trade, biomedicine, airport economy, modern logistics, and bonded processing, and is expected to continue to deepen cooperation with the B&R countries and regions in the future. (Edited by Jiang Feifan with Xinhua Silk Road, 346129473@qq.com)