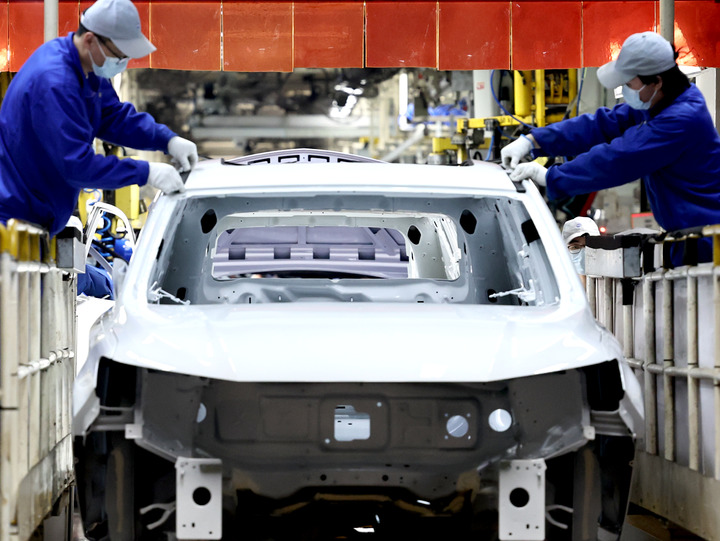 Workers work at the assembly workshop of automaker SAIC Motor Company's Lingang base in Shanghai, east China, April 23, 2022. Seventy percent of Shanghai's 666 major enterprises have resumed production to fight the COVID-19 resurgence. (Xinhua/Chen Jianli)
SHANGHAI, May 13 (Xinhua) -- Shanghai Head Office of the People's Bank of China (PBOC), the central bank, has urged related commercial banks to crank up cross-border RMB service-related financial supports to help enterprises better hedge exchange rate risks and fight the epidemic, reported Xinhua Finance on Thursday.
The Shanghai headquarters of PBOC has urged related commercial banks to guide foreign trade companies to use RMB in cross-border settlement to effectively guard against the exchange rate risks.
Since April, exchange rates of the Chinese currency against global major currencies have weathered relatively large fluctuations, bringing explicit risks for enterprises which use foreign currencies in cross-border settlement.
In March, a Shanghai-based bulk commodity importer, which used to adopt the U.S. dollar or euro in cross-border settlement, tried its first cross-border RMB settlement transaction and then gradually changed the currency for its cross-border settlement to RMB.
By early May, the importer has made 700 million yuan of cross-border settlement in RMB and effectively avoided the potential exchange losses due to the volatile RMB since April.
Using RMB in cross-border settlement has effectively fended off risks from the RMB's exchange rate fluctuations and increased the predictability of corporate financial costs, the importer said.
Alongside the improving trade and investment facilitation, cross-border RMB settlement services will be more and more efficient and convenient, according to an official with the PBOC Shanghai Head Office.
Apart from these, the Shanghai headquarter will focus particularly on the capital flow demand of multinational companies amid the COVID-19 epidemic and help them combat the challenges by kicking off in time emergency response plans and exploiting the advantages of RMB cross-border settlement services, the official highlighted. (Edited by Duan Jing with Xinhua Silk Road, duanjing@xinhua.org)