KAMPALA, Feb. 14 (Xinhua) -- The groundbreaking ceremony of Uganda Lake Albert oilfield project was held recently to mark its formal start of construction.
The ceremony was witnessed by officials from the Uganda government, representatives of stakeholders and local communities.
It is learned that Uganda discovered crude oil reserves in the Lake Albert region in the west of the country in 2006. The oilfield, whose equity is jointly held by China National Offshore Oil Corporation (CNOOC) and Franch energy giant Total, covers an area of 1,518 square kilometers and has proven geological reserves of over 6 billion barrels.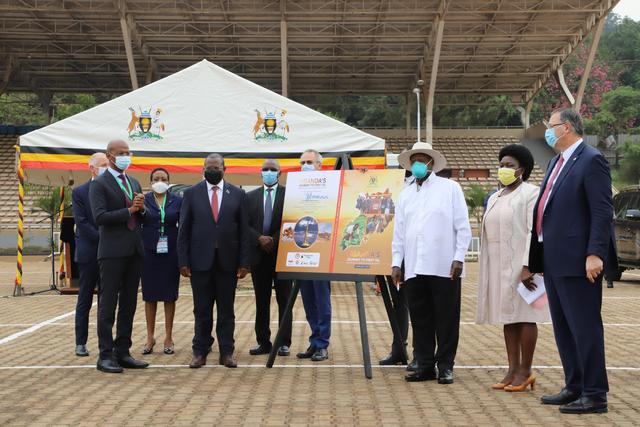 Photo shows groundbreaking ceremony of Uganda Lake Albert oilfield project
CNOOC participated in Uganda Lake Albert oilfield project through mergers and acquisitions in 2011. In the first phase of the project, CNOOC is planned to invest a total of 15 billion U.S. dollars on the oilfield's exploration and development.

According to Uganda Ministry of Energy and Mineral Development, the construction of the oilfield is expected to complete within the next four years and the oil production could be started by 2025. The oilfield project also includes a crude oil pipeline with a total length of 1,443 kilometers and designed with a transport capacity of 216,000 barrels per day.
As of now, CNOOC has trained more than 150 oil and gas business contractors and over 3,000 skilled operators so as to promote localized operations.

(Edited by Bao Nuomin with Xinhua Silk Road, baonuomin@xinhua.org)