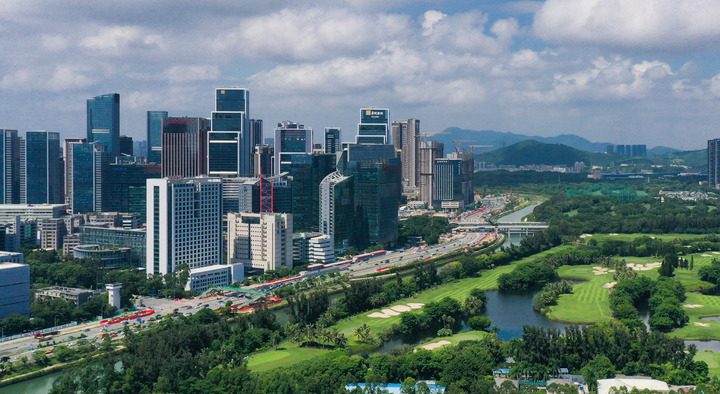 Aerial photo taken on Sept. 27, 2020 shows the science and technology park along the bank of the Dasha River in Nanshan District of Shenzhen, south China's Guangdong Province. (Xinhua/Mao Siqian)
BEIJING, Jan. 6 (Xinhua) -- The year 2022 should witness gradual recovery of the Chinese market with export staying resilient, according to recent reports released by multiple foreign institutions, who generally believe that China's continuous efforts in opening-up will allow renminbi (RMB) assets to remain attractive to foreign investors, reported China Securities Journal on Thursday.
Growth drivers such as infrastructure and manufacturing investment, facilitated by policy support and green economy, will counter the impact of decrease in real estate investment, according to Morgan Stanley, who also expects modest growth in personal consumption and resilience in export.
Fitch Ratings thinks that the resilience of China's industry and export sectors will provide stability for the labor market in the first half of 2022. It is also believed that the country's economic growth momentum will stabilize by the middle of 2022 as policies starting to take effect. Investment in infrastructure should start to recover by early 2022, improving growth prospects in the second half of the year.
UBS believes that China's rapidly growing market with non-stop effort in promoting opening-up will remain attractive to foreign investment. With the global supply chain under reconstruction and the continuous trend of Chinese economy integrating with the globe, it is potential that China will become a more significant supplier in certain sectors.
Citi Bank points out China's specific emphasis on the critical influence of digital technology on future economic development reckons that sci-tech enterprises may experience increasing profit by the first half of 2022, which could strengthen the resilience of the Chinese stock market.
(Edited by Yu Huichen with Xinhua Silk Road, yhc0267@163.com)