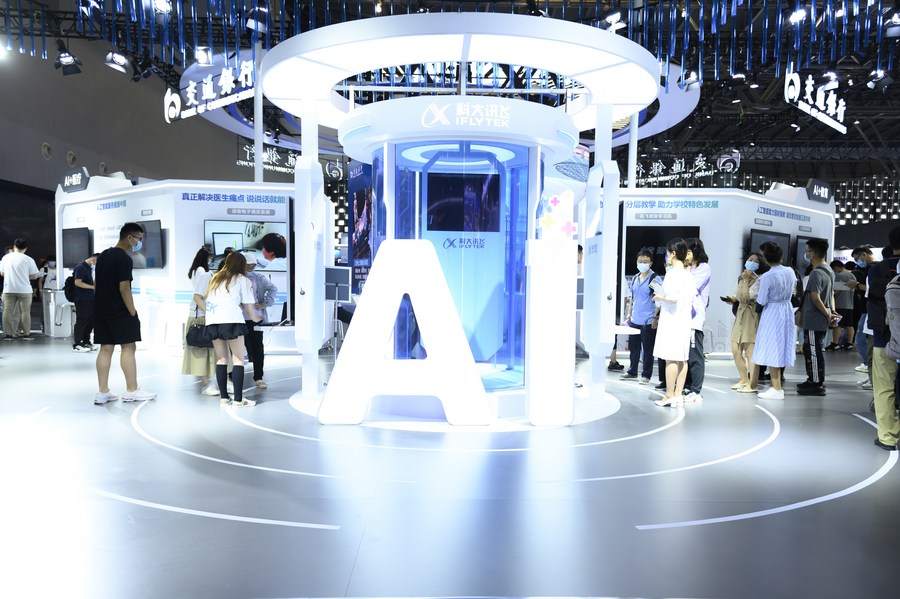 People visit the 2021 World Artificial Intelligence Conference (WAIC) in east China's Shanghai, July 8, 2021. (Xinhua/Hu Zhixuan)
BEIJING, Dec. 13 (Xinhua) -- Artificial Intelligence (AI) technology will make more contributions in carbon reduction, with an estimation of at least 70 percent by 2060, reducing over 35 billion tons of carbon emissions, according to a white paper released recently.
Jointly compiled by Baidu and International Data Corporation (IDC), the white paper is the first research report that focuses on the impacts of AI on the goals of carbon peak and carbon neutrality in China.
The approach to carbon neutrality is highly-dependent on technology, and thus breakthroughs in AI technology will unleash great potential by integrating with carbon reduction technologies in various industries which apply information technology (IT) infrastructures, said the white paper.
Taking the transport industry as an example, the industry's carbon emission in China topped about 1.04 billion tons in 2020, accounting for 9 percent of the country's total. The industry looks to smart traffic light control system as part of the carbon reduction drive. By combining existing technology with AI, the system could highly improve travel efficiency, avoid traffic congestion, and thus reduce about 41,600 tons of carbon emission in a city with a population of over 10 million.
Based on its long-term research on global IT market, ICD noted that the global application of cloud computing can reduce such a huge amount of carbon emission that equals to 15 times of that reduced by all Tesla vehicles.
The white paper also indicated that demand for computing power will increase as industries are more likely to turn to digitalization.
(Edited by Li Shimeng with Xinhua Silk Road, lishimeng@xinhua.org)