BEIJING, Dec. 4 (Xinhua) -- The Xinhua·Yangxin Beef Price Index was released on Saturday at the sub-forum on rural revitalization enabled by financial technology of the ongoing Boao Forum for Entrepreneurs in Boao, Hainan, to help boost the high-quality development of Yangxin County in east China's Shandong Province.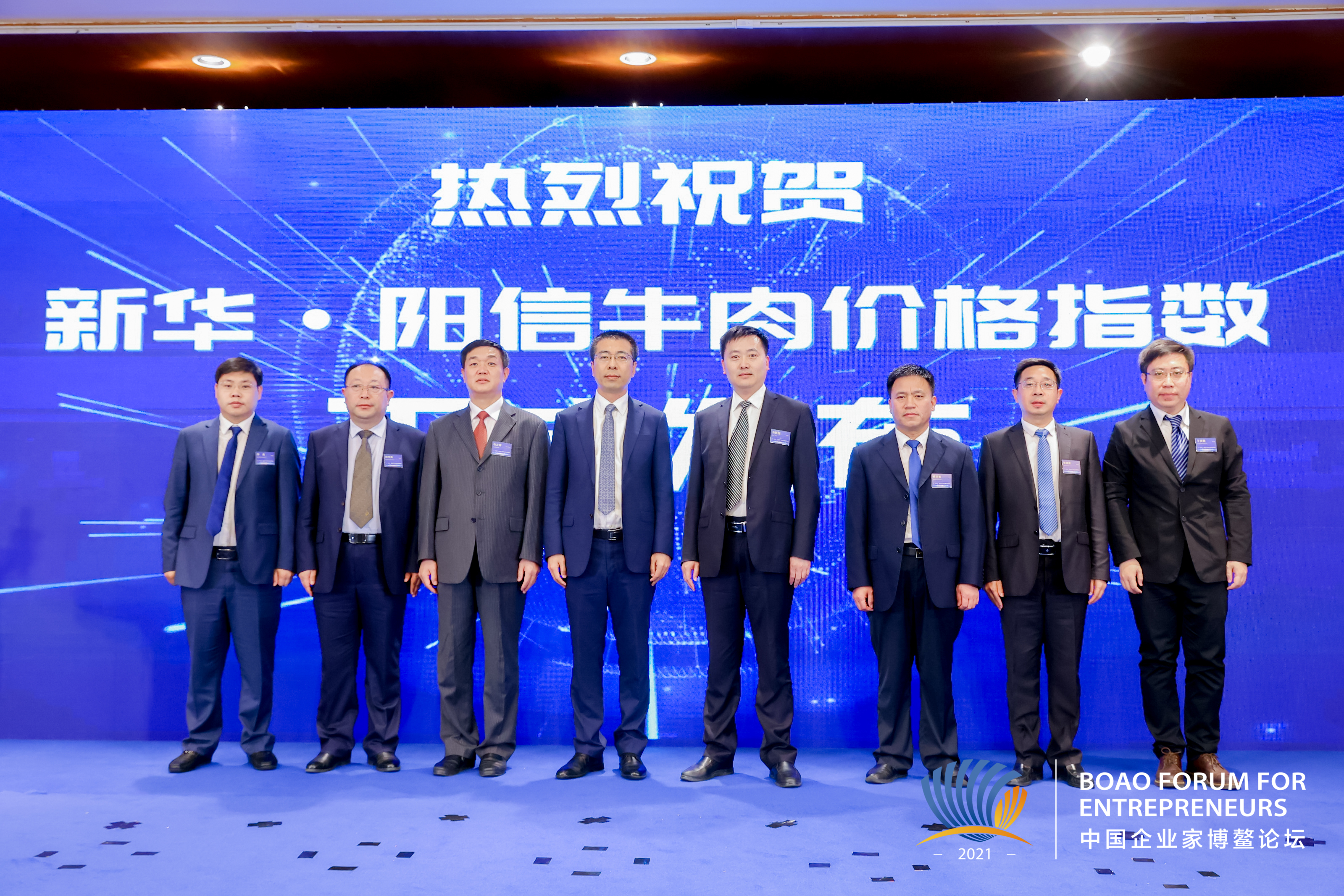 Photo shows the Xinhua·Yangxin Beef Price Index is released during the Boao Forum for Entrepreneurs held in Boao, Hainan during December 2-5, 2021.
Jointly developed by China Economic Information Service (CEIS) and the government of Yangxin, the index accurately describes the price changes in breeding, slaughtering, consumption and other key links of the beef industry chain, providing an objective value benchmark for the industry's development.
It can keenly reflect the market price changes as it is compiled based on spot trading, and thus it is of great significance to the development and regulation of the beef industry.
Industry insiders believe that the continuous release and promotion of the index will provide a platform for the spread of Yangxin beef brand.
Located in the center of the efficient ecological economic zone of the Yellow River Delta, Yangxin is the largest beef cattle breeding and processing center in north China, and the No.1 county in beef cattle stockpiling and slaughtering capacity in China's agricultural areas, which earns it the reputation of the "first cattle county".
The countyis the main production area of Luxi yellow cattle and Bohai black cattlein China. It now has 136 beef cattle farms above designated scale, with an annual stockpiling of over 273,000 beef cattle and an annual supply of 280,000 beef cattle.
It also has 76 beef cattle slaughtering enterprises above designated size, with an annual slaughter capacity of 1.2 million beef cattle. Besides, 331 of the county's beef processing enterprises have received the food production license, with an annual beef slaughter and processing capacity of more than 300,000 metric tons (tonnes). The total output value of its beef cattle industry can reach 55 billion yuan.
Yangxin has built a complete industry chain covering forage planting, calves breeding, beef cattle fattening, slaughtering and processing, cold-chain logistics, restaurant chain, leather manufacturing, cattle bone carving, cattle by-products processing, and organic fertilizer production, which has not only created nearly 120,000 jobs, but also provided the "Yangxin solution" for the green development of the beef cattle industry.
(Edited by Gu Shanshan with Xinhua Silk Road, gushanshan.1987@163.com)