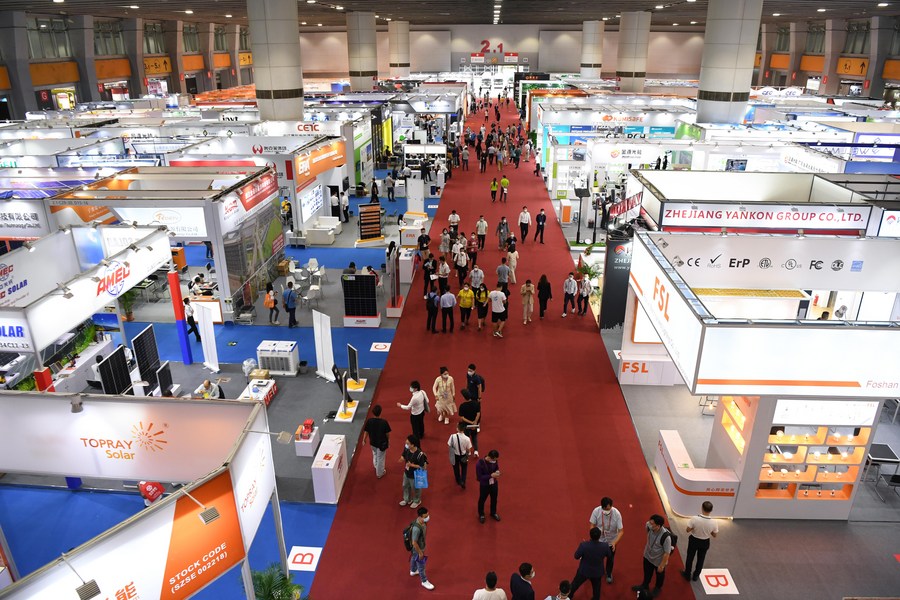 People visit the 130th session of the China Import and Export Fair, or the Canton Fair, in Guangzhou, south China's Guangdong Province, Oct. 15, 2021. (Xinhua/Deng Hua)
BEIJING, Dec. 1(Xinhua) -- China's Ministry of Commerce (MOC) has recently issued a plan for high-quality development of its foreign trade during the 14th Five-Year Plan period (2021-2025), which proposes promoting innovation-driven, green and low-carbon, and digital transformation of foreign trade, further improving the opening-up level, and strengthening related risk prevention and control capabilities.
Implementation of the plan is likely to increase China's comprehensive trade strength, enhance coordinated and innovative trade development, smooth the dual-circulation of domestic and international markets, deepen international cooperation, and improve its trade security system.
-- Highlights of the plan
Innovation-driven development
The plan puts up to place innovation as the primary driving force for foreign trade development, deepen innovations in science and technology, systems, models and forms of business in foreign trade, and strengthen protection of related intellectual property rights.
New business forms and models are effective forces in the development of China's foreign trade, important trends in the development of international trade, and key measures to ensure stable and high-quality development of foreign trade, said Li Wenlong, head of the Pan-Asia Research Institute of Digital Economy.
Li Xingqian, director of the Foreign Trade Department of the MOC, said that in recent years, new business forms of foreign trade have developed vigorously, providing convenient services and diversified choices for domestic and foreign consumers, and becoming a new track for international trade cooperation.
According to Li, during the 13th Five-Year Plan period, the number of comprehensive pilot areas for cross-border e-commerce in China increased to 105, and enterprises within the areas built more than 1,800 overseas warehouses. Besides, the scale of pilot cross-border e-commerce retail imports has been expanded to cover 86 cities and the whole island of Hainan. The cross-border e-commerce imports and exports surged by nine folds, and the exports of market procurement trade hiked by three folds.
Since the beginning of this year, development of the new business forms of foreign trade has kept making new progress, with the number of overseas warehouses surpassing 2,000. From January to October this year, the cross-border e-commerce imports and exports grew by 19.5 percent.
The plan also proposes promoting innovative development of trade in services, improving related development mechanisms and the opening-up level of trade in services, and establishing a negative list management system for cross-border trade in services.
Expediting digital transformation
The plan calls for accelerating the digital transformation in foreign trade by pushing foward deep integration of digital technology with trade development.
China is deeply involved in the wave of global digital economy development, and digital economy is playing an increasingly important role in the country's national economy.
In 2019, the added value of China's digital economy reached 35.8 trillion yuan, accounting for 36.2 percent of the national GDP.
The MOC forecast in a report on China's digital trade development that the import and export value of China's digital service is expected to exceed 400 billion U.S. dollars and account for about 50 percent of China's trade in services by 2025.
Digital technology can help promote the upgrading and optimization of China's export structure. By leveraging the industrial foundation of emerging digital technologies such as big data, cloud computing, artificial intelligence and block chain, as well as the Belt and Road Initiative (BRI) and free trade zones, China can establish contacts with a wider range of trading partners and explore new growth points in foreign trade.
China's digital trade import has already become an important driving force for the growth of global service trade.
Strengthening risk prevention
According to MOC data, China's total trade in goods and services rose to the world top in 2020, with trade in goods totaling 4.65 trillion U.S. dollars and trade in services totaling 661.7 billion U.S. dollars.
However, the macro risks facing China's foreign trade cannot be ignored, including the weak foundation of world economic recovery, the rising unilateralism, protectionism and global inflation, and the speedy restructuring of international industrial and supply chains, noted Vice Minister of Commerce Ren Hongbin.
To address industrial chain and supply chain security issues, the plan proposes that efforts would be made to vigorously attract and utilize foreign investment, fully implement the foreign investment law and related supporting regulations, continue to cut the negative list for foreign investment, and encourage more foreign investment in mid- and high-end manufacturing, high-tech industries, the transformation and upgrading of traditional manufacturing, and modern services.
"At present, it is necessary to establish a list library of core multinational companies in the global supply chain, especially in the electronics industry, new energy vehicles, high-end equipment, intelligent manufacturing, biomedicine and other fields, and encourage these companies to invest or expand investment in China," said Li Wenlong.
Li also suggested supporting the extension of China's digital supply chain to overseas markets to build China's new supply chain advantages around the globe. "Among major countries, China has the largest investment and potential in developing digital economy. The output value of China's digital economy is expected to reach 95 trillion yuan by 2030. China would vigorously develop and expand its global digital industrial chain, and gradually form its leading position in the global digital industrial chain in the process."
-- Strong vitality of China's foreign trade
The plan says that during the 13th Five-Year Plan period, China's foreign trade has shown strong resilience and vitality, making positive contributions to domestic economic and social development and global common development.
According to the plan, in 2020, China's trade partners expanded to cover more than 230 countries and regions, and its foreign trade has helped transform domestic industries, upgrade consumption and balance international payments, creating 180 million jobs directly and indirectly.
This year marks the beginning of the 14th Five-year Plan period. Despite of the complex and grim domestic and international situations, China's foreign trade has achieved fast growth. From January to October, China's total imports and exports increased by 31.9 percent year on year to 4.89 trillion U.S. dollars, exceeding the total value of 2020 and hitting a new record high.
Meanwhile, the contribution of China's foreign trade to the national economy and the world economy is increasingly prominent.
In the first three quarters of this year, the net exports of goods and services drove a GDP growth of 1.9 percentage points.
In the first 10 months of this year, the newly-registered foreign trade operators reached 154,000, with most of them micro-, small- and medium-sized foreign trade enterprises, effectively driving employment growth. Cross-border e-commerce and other new forms and models of business have expanded the channels for flexible employment.
China's foreign trade has also helped improve people's livelihood. This year, more than 2,000 enterprises from poverty-stricken areas have successfully explored the international market through the Canton Fair. Besides, the border trade has increased the income of 4 million border residents.
In promoting global economic and trade recovery, China's foreign trade has also played a crucial role. So far, China has exported more than 360 billion masks to the world, helping various countries cope with the COVID-19 epidemic and resume production, and promoting smooth and stable global industrial and supply chains.
(Edited by Gu Shanshan with Xinhua Silk Road, gushanshan.1987@163.com)