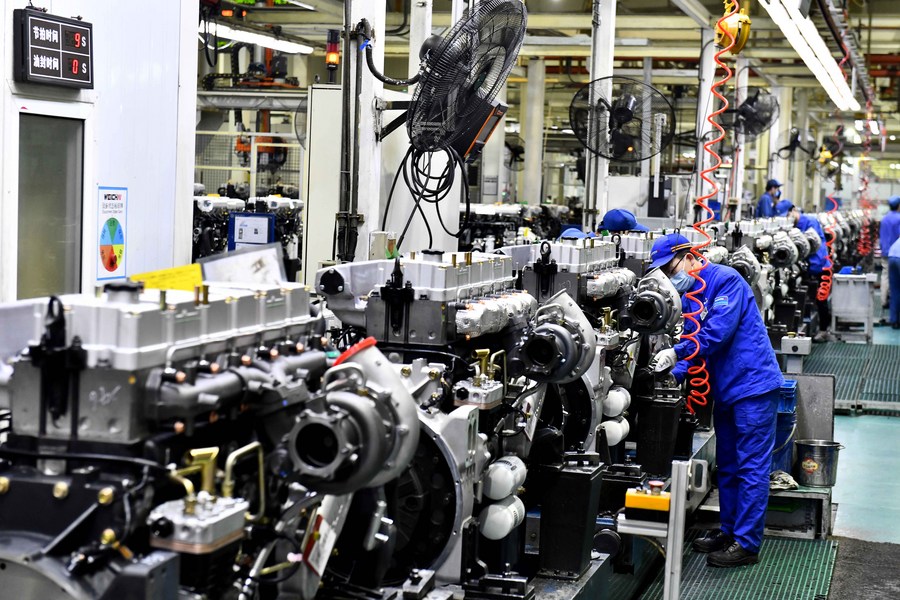 Workers assemble engines on an assembly line at a workshop of the Weichai Power Co., Ltd. in Weifang City, east China's Shandong province, April 22, 2021. (Xinhua/Guo Xulei)
BEIJING, Dec. 1 (Xinhua) -- The purchasing managers' index (PMI) for China's manufacturing sector came in at 50.1 percent in November, up 0.9 percentage point month-on-month,according to the country's National Bureau of Statistics (NBS).
The figure is slightly above the threshold of 50 percent, a baseline to indicate an increase or decline of business conditions, signaling the country's economy has overall improved, reported Economic Information Daily on Wednesday.
The manufacturing PMI went back to expansion territory thanks to the country's measures to ensure adequate energy supply and stable market prices, said Zhao Qinghe, senior statistician with the NBS.
To be specific, the figures showed that both production and market demand in the manufacturing sector were on an upturn last month, with manufacturing sub-index standing at 52 percent, up 3.6 percentage points month-on-month, while new order index hitting 49.4 percent, indicating a stronger demand.
Besides, the sub-index measuring purchase prices of major raw materials dropped 19.2 percentage points from October to 52.9 in November. The ex-factory price index fell to 48.9, down 12.2 percentage points from last month.
The new export order and import sub-indexes edged up to 48.5 and 48.1, respectively. The new export order index of industries such as medicine, automobile, mechanical equipment all witnessed an increase of over 3.0 percentage points respectively.
"The figure climbing above the threshold of 50 mainly attributes to the surge of manufacturing index," said Zheng Houcheng with Yingda Securities.
A highlight is that the PMI for small enterprises came in at 48.5, while that for medium enterprises at 51.2. The PMI for small enterprises edged up 1 percent but was still under 50 percent threhold, signifying a reduction of pressure.
According to Wen Bin, Chief Analyst of China Minsheng Bank, the national economy has became rosier thanks to a series of policy support to ensure supply and stabilize price. In addition, the improvement in the small- and medium-sized enterprises (SMEs) manufacturing index is due to the country's increasing support for the SMEs.
(Edited by Li Shimeng with Xinhua Silk Road, lishimeng@xinhua.org)