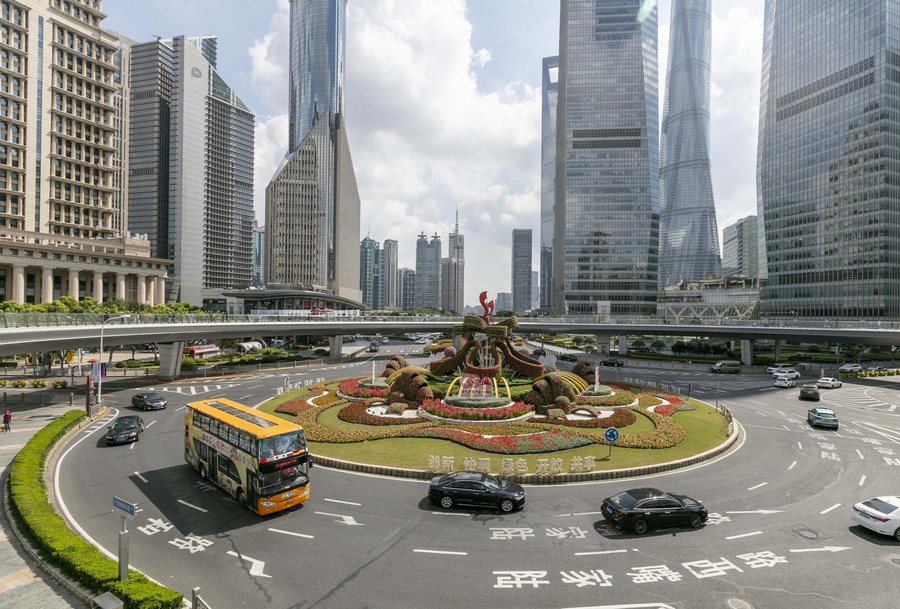 Photo taken on Sept. 30, 2020 shows the street view of the Lujiazui area of Pudong, east China's Shanghai. (Xinhua/Wang Xiang)
BEIJING, Nov. 26 (Xinhua) -- The State Council, China's cabinet, recently issued a document that arranges to pilot business environment innovations in Beijing, Shanghai, Chongqing, Hangzhou, Guangzhou and Shenzhen, reported stcn.com on Friday.
It also issued a list of pilot reforming items to promote business environment innovation. It involves 101 measures in ten aspects, including further removing unreasonable restrictions, improving market entry and exit mechanisms, further facilitating investment and construction, better supporting innovative development of market entities, continuing to facilitate cross-border trade, optimizing management of foreign investment and international talent services, maintaining fair competition, further strengthening and innovating supervision, protecting the property rights and legitimate rights and interests of all types of market entities in accordance with the law, and improving regular enterprise-related services.
It calls for further exploring and improving market-based pricing and trading mechanisms for intellectual property rights (IPR), establishing cross-regional IPR trading service platforms to provide services like information listing, transaction matching and asset appraisal for IPR transactions and help science and technology enterprises quickly realize pledge financing, and leveraging guarantees, risk compensation and other methods to reduce credit risks, etc.
It also proposes incorporating the follow-up steps of social security registration into the "one network for all" platform during the start-up process of enterprises, and promoting simultaneous issuance and application of electronic business licenses, electronic invoices and electronic signatures to facilitate enterprises' handling of matters online.
It requires facilitating financing by guaranty of movables and rights such as motor vehicles, ships and IPR, encouraging related authorities to explore and establish electronic databases with the names of guarantors as indexes to realize online inquiry, modification and cancellation of the registration status information of relevant guaranty in pilot cities.
(Edited by Gu Shanshan with Xinhua Silk Road, gushanshan.1987@163.com)