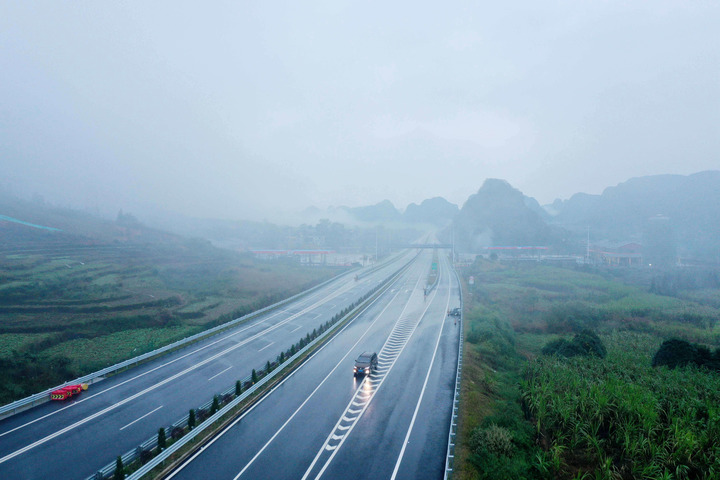 Aerial photo taken on Nov. 16, 2021 shows the Guilin-Liucheng Expressway in Rongan County, south China's Guangxi Zhuang Autonomous Region.
BEIJING, Nov. 18 (Xinhua) -- China Banking and Insurance Regulatory Commission (CBIRC) approved on Wednesday insurers to invest in publicly-offered infrastructure real estate investment trusts (REITs), reported Xinhua Finance.

CBIRC said that it took the move to increase liquidity of existing infrastructure assets and improve the proportion of direct financing.
The report quoted a CBIRC official as saying that China's outline of the 14th Five-Year Plan (2021-2025) proposed explicitly to boost healthy development of infrastructure REITs, effectively utilize existing assets and foster sound circulation between existing assets and new investment.
Since late June, publicly-offered REITs have been listed on China's stock exchanges in Shanghai and Shenzhen and ran stably while insurance capital, characterized by their long term, large size and stable source, can neatly satisfy the financing demand of infrastructure programs, held the official.
Generally, publicly-offered infrastructure REITs can provide long-term and steady cash flows to meet with the long duration of insurance capital as their underlying assets are infrastructure projects with relatively long operation periods and compulsory dividend distribution.
Moreover, publicly-offered infrastructure REITs boast low relevance to major categories of financial assets such as stocks and bonds, helpful for insurers to reduce investment risks.
Furthermore, they have unified issuance standards requiring relatively high level of information disclosure and accept at the same time public supervision, all of which enable them to be standardized products for insurers to participate in investment into infrastructure projects.
By the end of September this year, insurers poured 3.31 trillion yuan of their capital into transportation, energy, water conservancy, and shanty town renovation related infrastructure projects through debt or equity investment plans and others.
CBIRC provides at the same time thresholds for insurers to invest in publicly-offered infrastructure REITs.
To directly invest in publicly-offered infrastructure REITs, insurance groups and insurance companies shall be capable of managing real estate investment and be scored higher than 80 in assets and liabilities management capability appraisal in the present year, with comprehensive solvency ratio at no less than 150 percent by the end of the previous quarter.
For publicly-offered infrastructure REITs investment via insurance asset management firms or other professional management institutions, insurance groups and insurers are required to obtain higher than 60 scores in assets and liabilities management capability appraisal in the latest year and maintain their solvency ratio at no lower than 120 percent by the end of the quarter prior.
Insurance asset management companies entrusted to invest insurance capital in publicly-offered infrastructure REITs or invest in them via insurance asset management products shall be qualified for managing debt investment plans and have no lower than class C type of regulatory rating in the latest year.
A rough survey done by Beijing Business Today, a Beijing-based newspaper, showed that about one fifth of the 80 life insurers and 83 property insurers are not qualified for investment in publicly-offered REITs in terms of insufficient solvency ratio or risk ratings, regardless of their assets and liabilities management capabilities. (Edited by Duan Jing with Xinhua Silk Road, duanjing@xinhua.org)